Convert visitors into leads and revenue by ranking high in Google
Plumbing is a very different industry from the traditional business world. The plumbing website design needs to be different too! Plumbers operate in a very different industry from traditional businesses. A restaurant nearby might use their website to advertise their menu and dinner specials, while a plumbing company uses its website to generate leads.
As opposed to a restaurant, your method of measuring success relies on calls and contact forms instead of foot traffic to the storefront.
How many qualified web form submissions does your site generate per month? Or, how many phone calls does your business receive from customers who say, "I found you on Google"? If the answer is "no," then this blog is for you.
What Every Plumber's Website Needs to Generate Leads
1. A Professional Logo Design
A professional plumbing logo serves many purposes. First, it legitimizes your business. Consumers comparing an ugly website with no logo to one with an elegant logo believe the company with the nicer logo is of high quality, regardless of whether it's true or not.
To kick off the website design process for your plumbing company, consider investing in a professional brand design and a new logo. Check out our ultimate guide on branding for plumbers.
2. An Effective CALL-TO-ACTION
An effective call to action will entice users to take action on your site by directing them to the next step or what to do.
Generally, these fall into two categories on plumbing websites:
Make a phone call or;
Complete a form
Your website should have a clear call to action at the top, making it easy for visitors to get in touch with you and your customer service team, like The Atlanta Plumber, who offers "Emergency Services 24/7," a clear reason to contact them if you have an emergency plumbing problem.
3. Request Help Easily
In order to encourage customers to take action after reading your call to action, you need to make it as easy as possible for them to do so. At a minimum, you should provide two ways for them: phone and online form request.
4. List of Services
It's Google's goal to provide users with the best service results, so why shouldn't your plumbing website? Provide info about the services you offer your users in a clear and concise manner right away by using icons and boxes when necessary.
5. Sticky Headers
It's important to keep in mind that sticky headers are a best practice in plumbing website design today. So what exactly does a sticky header do? It basically lets your menu section appear static, always in top of the page as you scroll, so that your visitors can always see it.
Having sticky headers can assist you with generating more leads by keeping your call to action and contact information within easy reach and within view 100% of the time someone is on your website.
6. Responsive Structure
It is a known fact that many consumers would lose interest if the content they're viewing didn't look good on their device.
The reason why having a responsive website is so important is because if your website is not responsive, 8 out of 10 people will leave your site and go to your competitor's instead. In order to prevent this from happening, build your website using a responsive framework.
These responsive websites automatically resize according to the size of the device, giving users a beautiful display across desktop and laptop computers, iPads, iPhones, Android phones, and any other device.
By building your plumbing website on a responsive framework, you ensure that you have a mobile-friendly website as well, which is a necessity in this age of mobile devices.
7. Quality Images
It is very important to use professionally shot, hi-resolution images on your website to ensure highest level of clarity and professionalism. Using pictures that are pixelated and blurred is not only a sign of a lack of professionalism but is also very frustrating to users.
8. Real Images
It is very beneficial to put pictures of your technicians, trucks, and employees throughout your website in order to establish credibility and rapport with the homeowners in your service area.
There are many ways you can make your plumbing website look and feel more professional, whether it's through a home page, a team page, or another page of your site. A smile and friendly face go a long way toward helping to generate more leads from your plumbing website.
9. Display Achievements & Accreditations
It's not surprising that every homeowner wishes to find a plumbing company of good reputation in the community and in the plumbing industry. The best way to generate more leads from your plumbing website would be to obtain industry recognitions, awards, and accreditations.
We recommend the following badges, logos, and items be included on your website by all plumbers, if at all possible. Remember to only use logos for organizations with which you are affiliated and to check with every organization to see if they have specific guidelines on using their logo online!
Plumbers' licenses
Better Business Bureau
Super Service by Angie's List
Listing for HomeAdvisor
Logos and badges for other awards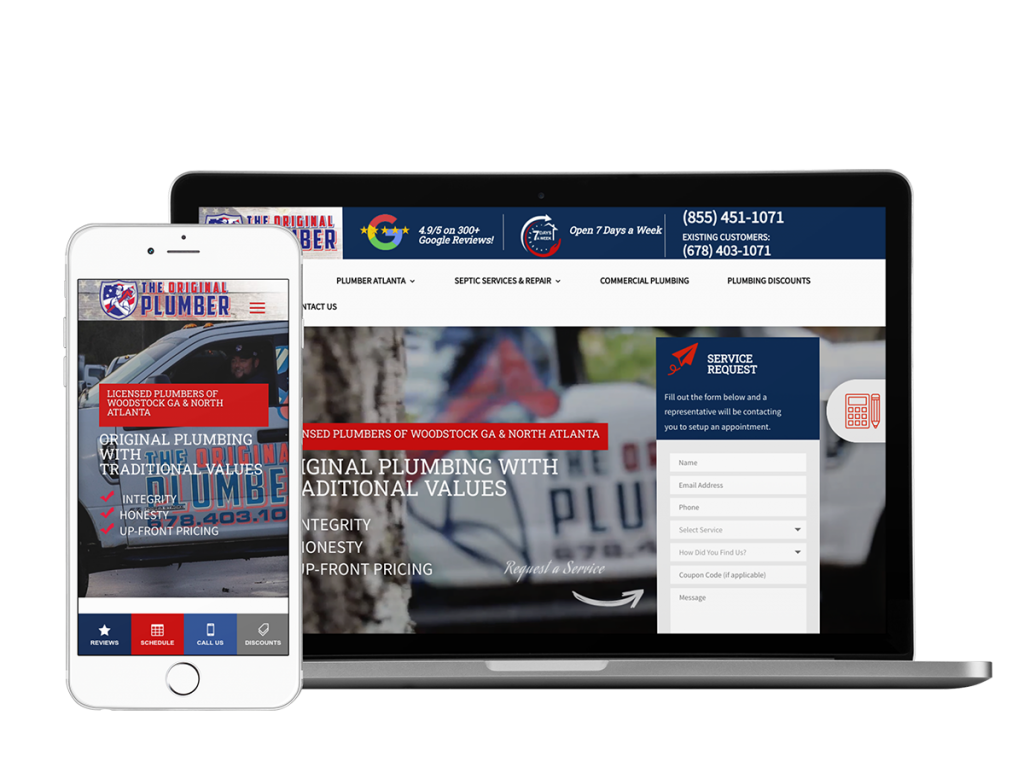 10. An Up-To-Date Plumbing Website Design
You should consider your plumber's website to be a digital salesperson that works 24/7 to generate new leads and sales. Invest in contractor web design, organic search engine optimization (SEO), Local SEO for plumbers and other types of plumber digital marketing so that you can generate a constant flow of leads. Be sure to check out our article "Is SEO Worth It For Plumbers" for more information.
11. Promotional Codes and Offers
For those of you who have special deals and coupons available to you, you might want to advertise them on your website!
The little bit of money you save on your next tune-up, service call, or maintenance plan goes a long way with your customers and helps build their loyalty. It is true that coupons mean less money in your pocket, but the additional loyalty and retention you gain by giving customers 10% off their service call far exceeds the $10.00 you lost by offering them one.
12. Mobile Click to Call Button
A compelling call to action should be present on mobile devices just as much as on a desktop. There are many plumber websites out there that are designed to boost conversion rates significantly and provide customers with a way to directly contact your company by clicking a button. Click to call buttons, provide a unique opportunity for your website to maximize conversions.
The Next Steps to Building a Plumbing Website
Do you need some help with your plumbing website? Here at Newman Web Solutions, we love to make your phone ring and help you generate more leads, sales, and revenue. We provide monthly website maintenance services to protect your investment.
We'd love to hear your ideas on how we can improve your website: call 404-301-9189 or schedule a free strategy session.