Helpful Search Engine Optimization Techniques
The following post discusses some of the most important on-page search engine optimization techniques that contribute to creating an effective piece of content optimized for search engines.
Search engine optimization can be difficult to understand. You should know that in this post, we're focusing mainly on a few basics of SEO optimization. It is important to realize that successful SEO efforts go way beyond the on-page optimization.
The goal of On-Page SEO is to optimize every web-page for any particular phrase so that its ranking in search engine results is higher.
External ranking signals, which can be accomplished with our Local SEO services, are defined as off-page SEO.
Elements of On-Page SEO Content Optimization
Optimization of page content should begin with the On-Page SEO elements below. By implementing these few pieces of the SEO puzzle, you will lay a strong foundation for your website optimization.
Create Keyword Rich Content
Page titles should include key phrases
Good Meta Description that utilizes the Keyword Phrase
Use keywords in the URL
Use of Optimized Images
External Page Linking
1. Create Keyword Rich Content
How to Select the right keywords
SEO's key to making SEO work is to create content that specifically targets user search queries…this is what makes SEO work. SEO lets you deliver the exact content a user is looking for, at precisely the right time.
Learn more about creating content strategies »
You need to know the keyword phrase for which you are optimizing a page before you proceed with any on-page SEO techniques.
Getting a decent keyword phrase is such an important step, so don't skip it. It defeats the purpose to rank for a phrase that nobody types into Google.
It doesn't have to be an overbearing process to find out what search terms your prospective customers use to find your competitors
Content that is search engine optimized starts by determining the primary topic of the page….or your keyword phrase. A fully optimized page must be centered around the primary keyword phrase.
Consider your potential customer's point of view as you search. Do you see businesses similar to yours in the search results? This is usually a good sign that the phrase works for your business.
There are several tools and guides that can help you get ideas about possible keyword phrases. Check out Semrush's Keyword Research Guide for SEO. It's a great place to start.
2. Meta titles for pages should contain the keyword phrase
Searchers need to know what's on the page and why it's relevant to their query from the page title.
Your web page's title, which appears in the top right corner of your browser, is often the primary piece of information that a user uses to decide what search engine result to click on…so you should write accurate, meaningful titles.
What you need to know when creating Meta titles:
Page Meta Titles should be unique for every page.
The title tag should contain at least four words; Google usually displays the first 50-60 characters.
Incorporate the primary keyword phrase for that page into the title and use it at the beginning if possible.
3. Good Meta Description that utilizes the Keyword Phrase
The META description is the contextually relevant paragraph that appears beneath the link in a Search Results Page. However, different search terms on Google may appear something else other than the META description, highlighting words from the content that are relevant to the searcher's query.
When optimizing the META description, you should consider the following:
Each page should have a different meta description.
Google usually displays the first 160 characters of the description.
Put the keyword phrase at the beginning of your description.
The description listed in search results has a great deal of influence on how many people click-through to your site. Make sure each description is captivating and easy to understand.
4. Use keywords in the URL
When you enable permalinks in WordPress, you can use your exact keyword phrase in the URL of a page or post. WordPress automatically generates post slugs from a post's title, and you can edit them to contain your exact keyword phrase.
The URL should be short and include your key phrase when possible. Short URLs perform better than long ones. Do not include any 'stop words' unless they are a key part of the search phrase. Google stop words are those words that tend to be partially or entirely ignored by search engines. Here are some examples of stop words: the, an, a, of, or, many.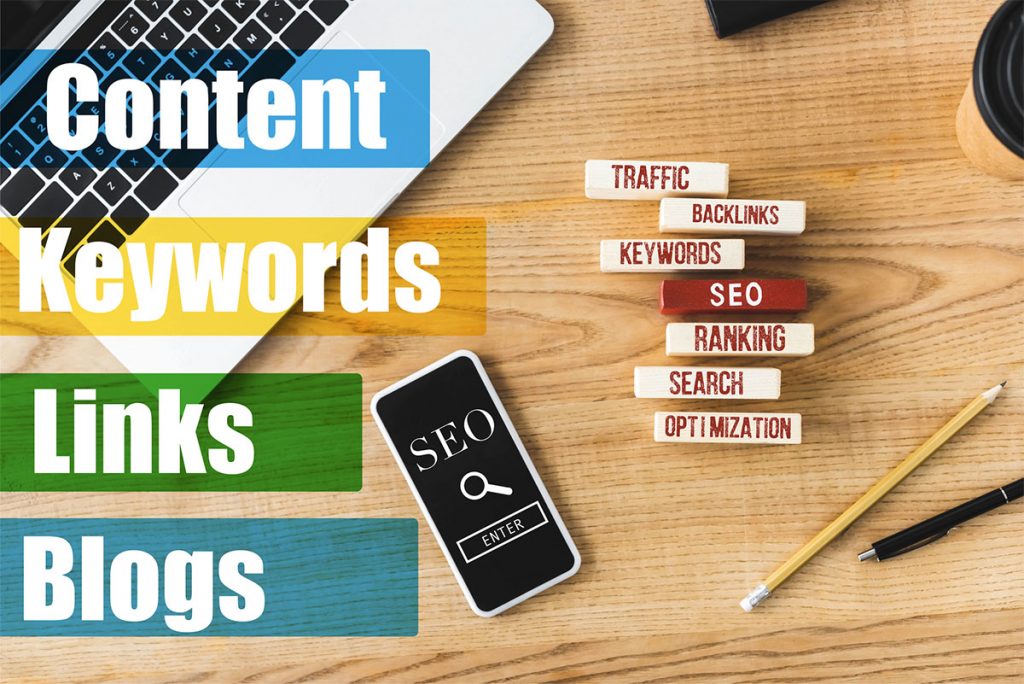 5. Use of Optimize Images for SEO
Having the right images not only makes your content easier to access, more visually appealing and engaging for users, but they're also crucial for SEO.
You should understand the basics of image optimization to give your brand the best chance to succeed with SEO.
Reduce your image file size – Larger and higher resolution images can significantly slow your page's load time.
Optimize image file names – Before uploading any image, name it with relevant, descriptive keywords before you upload it to get the most SEO power.
Use alt tags – Viewers may understand what a picture is about, but search engine spiders still need clues. Without alternative text, it's impossible for search engines to accurately index your image content. A good alt tag provides context and helps visually impaired users too.
Rename the image title with the appropriate keywords in the same way that file names are named. An image title is not as important for SEO, but it can provide more context to the alt text. Image titles can be more engaging for users if they include a call to action.
6. Internal Page Linking
Link to your related content while you write content. This helps search engines and users discover related content on your website. Internal linking reinforces the relevance of your content to the keyword phrases you use in linking to it. Internal linking also helps make clear your website architecture, an important success factor.
Once the page has been optimized, be sure to create links from other content on your website to it. Look for places in your website where you mention the keyword phrase and link back to the page you are optimizing for that phrase.
7. External Page Linking
Make sure that the pages on your site have links out to high-quality sites and sources from relevant topics and provide useful information to the users.
Sometimes, SEOs are reluctant to link out, fearing that they will lose authority. The truth is, Google strives to reward sites with great user experiences.
Furthermore, multiple SEO experiments and correlational studies indicate that linking to high-quality resources is correlated with higher rankings.
Conclusion
Understand what your prospects might be looking for and write about it. If you want to be ranked for that, write about it some more. Always put your users first. Doing so will help everything else start falling into place.