The foundation of every website is its on-page SEO. To make sure you create a perfectly optimized website in 2023, we created a comprehensive On-Page SEO checklist.
How Does On-Page SEO work?
SEO on page focuses on optimizing your website's content to improve its organic rankings. Optimizing a page on page encompasses both the content and the HTML source code. This is entirely different from off-page SEO, which consists of links and external signals that do not occur on your website.
In 2023, on-page SEO is as important as it has always been. In spite of the fact that so many aspects of SEO are not fully in your hands (or which take months or years to take effect), you do have complete control over on-page SEO and can influence it quickly.
Without further ado, let us get started.
Your Complete On-Page SEO Checklist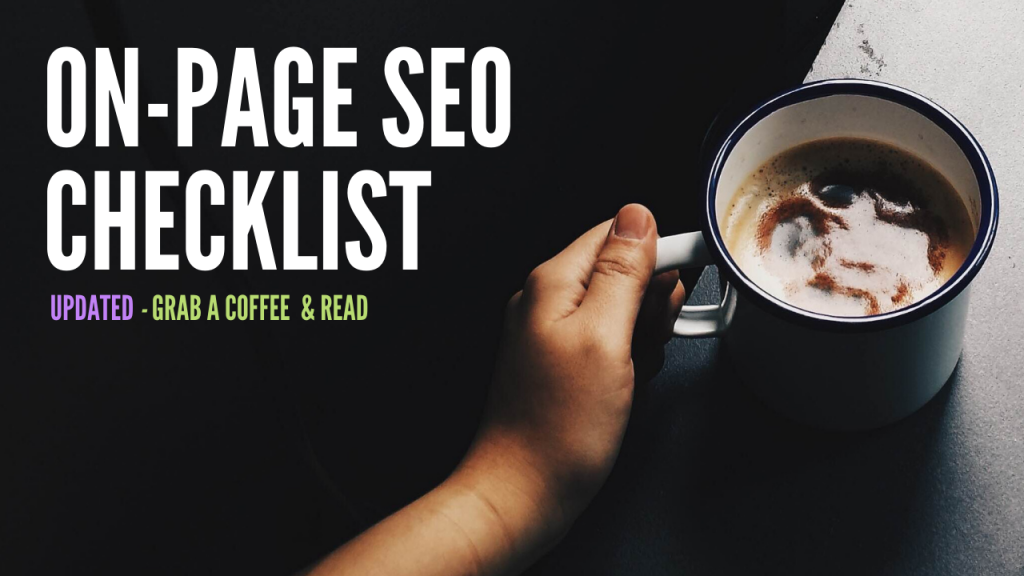 Make sure your URLs are SEO friendly: You should keep your URLs short and keyword-rich, using only a targeted keyword at the beginning of the URL whenever possible. Short URLs tend to rank better in search results than long ones. For example, newmanwebsolutions.com/atlanta-seo-company is much more SEO friendly than newmanwebsolutions.com/the-number-one-atlanta-seo-company
Start Your Title Tag With Your Keyword: On-page ranking factors like the title tag are extremely important, especially when it comes to placing your targeted keyword. It is believed that the closer the keyword is to the beginning of the title, the more weight it has with search engines. To prevent your title from being truncated in search results, keep your targeted keyword as close to the beginning of your title as possible. Limit your title to between 50 and 60 characters.
Your Title Should Include Modifiers: When you include descriptive modifiers such as "2023", "best", "easy", "checklist", "fast" and "review", you will rank higher for longtail keywords. Some popular terms used on the web include "the current year", "the best", and "updated." Using these modifiers can also increase your click-through rate (CTR). Our on-page SEO checklist will cover optimizing for click-through rates later on.
Put Your Page Title In Your H1 Tag: The top attribute on your page can be the same as your page title. There is no limit to how many H1 tags can be on a page, according to Google. Although we still recommend only using the H1 tag once per page, it is important to keep in mind that it is used for helping Google see the structure of your page. Make sure your H1 also contains your target keyword.
For Subheadings, use the H2 tag: Your H2 tags should be used for subheadings, and at least one of the subheadings should contain your target keyword. Try to include latent semantic index (LSI) keywords into your subheadings as well. It is easy to read pages with subheadings, as they break up content. H2 tags can be used multiple times per page.
On every page, include images: Media content, such as image and video content, can enhance your user interaction ranking by decreasing bounce rate and increasing time on your site. The use of images is beneficial for breaking up content and for utilizing your targeted keywords as part of your image's alt tag. It is important to optimize the image file name, which is frequently overlooked. Also, make sure that your image file name includes a brief description.
Include Your Keyword Within the First Hundred Words of Your Content: When writing about a topic of your choice, this usually occurs naturally. People sometimes, however (especially when blogging), write a long introduction and use the keyword only later in their content. This is a bad practice to continue.
Make use of outbound links: Links from your site to other related websites demonstrate to Google that your website is a quality information source. It is beneficial to link to quality websites from your own website, as this could help your ranking and Google understand your website's content better.
Link to internal pages: Adding two or three internal links to your new content is a good idea. Developing internal links can be extremely beneficial to a site because it enables search engines to understand, index, and find all of the pages on the site. Internal linking to relevant pages can provide page authority to them when used strategically. An SEO Best Practice calls for anchor text that contains keywords, which informs users and Google what the corresponding page is about.
Long-form Content Writing: Make sure your articles and blog posts contain over 1,100 words. The length of service pages should be at least 800 words. The longer the content, the better your chances of ranking for your target keyword, and it will also allow for more longtail traffic. An added benefit is that longer content tends to attract more backlinks and rank higher in organic search.
Meta descriptions should be optimized: Meta descriptions should be unique, contain the keyword or keyword phrase you wish to target, and be between 150-155 characters in length. Moreover, if your meta description contains the exact keyword, it will be bold in search results. This is another way to help you improve your clickthrough rates. Think of it as a small advertisement.
Share buttons for social media: Although social media has no direct impact on search algorithmic weighting, social media is useful when it comes to attracting more viewers to your content. The service boosts brand awareness and is a great way to connect with your target audience. In addition, posting content on social media increases your chances of acquiring backlinks, since more people will see and share your content.
Search Console Submission: Make use of Search Console's "URL Inspection tool". The inspector checks your newly published URL to determine if it can be indexed at the time of submission. It will ask you to request indexing if it can. The GoogleBot will then crawl through the content of your website and index it. Additionally, you can use this tool to perform updates or other changes to your content.
Make Sure Your Website Can Be Indexed: I have seen people unintentionally prohibit search engines from finding content on their websites with no-index tags. Since search engine bots are unable to crawl non-indexed pages, they will never appear in search results.
Make Your Website Secure (HTTPS): The HTTPS protocol encrypts data transferred between a server and a browser. It was announced in 2014 that Google would use HTTPS as a ranking signal. The relationship between HTTPS and higher rankings has been confirmed by multiple studies.
The average time spent on the website should be increased: When users spend more time on your website, search engines can tell that you have matched their search intent to your content. As a result, those search terms rank higher. Write long, engaging content, use images, and videos (as previously mentioned) to keep your visitors on your page for longer.
Mobile Friendly testing and optimization: The speed of a website is noted by Google as an official ranking factor since 2010. A few years ago (in 2018), Google announced they would start using mobile-friendly speed metrics and move to mobile-first indexing. In effect, this means that Google will index and rank your content based on the mobile version and not the desktop version. Your website must be able to load quickly in order to be effective. Fortunately, Google provides an easy-to-use tool for determining your mobile page speed and ways to improve it if necessary. Google's Mobile-Friendly Testing Tool can be used to find errors in a website or an individual URL so that they can be prioritized for correction.
Fix broken links: Google appears to drop web pages in search results if a page has broken links linking to external resources, according to data compiled by Ahrefs. Keep an eye out for broken links on your website and either remove or replace them.
Optimize for click-through rate: The importance of optimizing for CTR is growing. WordStream conducted a study that determined that if you achieve a higher CTR than expected, you are more likely to rank higher, and if you do not attain the higher CTR, you are less likely to rank high. Enhancing your page title with modifiers and incorporating keyword-rich meta descriptions into your meta description are two of the most effective ways to improve your CTR as mentioned above.
Avoid keyword cannibalization: Keyword cannibalization occurs when website pages are optimized with the same keyword. Search engines have difficulty providing the best results for a given search query because they will not be able to determine the best result. You can easily identify your website's keyword cannibalization using a quick and easy method. Consider merging content from competing pages and redirecting it to the asset that holds the most authority if this is an issue for your website.
Correct spelling and grammatical errors: Readers may find it difficult to understand the content on a website if it contains typographical or grammatical errors. The same applies to search engines like Google and Bing. Your search results will suffer if they spot spelling and grammar errors in your content.
Using Unique Images: Make sure your website has unique images whenever possible. What is the reason? You will achieve a higher ranking for your website if you use unique images on your website. If you have too many stock images on your site, take your own photos. Also consider using Webp images to improve website load times.
Optimize your website for voice search: Voice search is on the rise. For voice search optimization, it's important to provide concise answers (25 to 30 words or fewer) to questions relating to your keyword topic. Adding a FAQ section to your website is an easy way to achieve this.
Make use of Schema Markup: You will be able to be included in Rich Snippets (when appropriate) by using schema markup upon your web pages. Structured markup and use of semantic search methods have been shown to increase CTR by up to 30 percent. Schemas for reviews and FAQs are the two best for obtaining Rich Snippets. 
Fix Google Search Console Crawl Errors: It is crucial to find and fix crawl errors. A crawl error means that Google cannot read or see the content of your page. Google may not index or rank your page if it is unable to view it. The Google Search Console makes it easy to identify crawl errors. You can now see all URLs with errors and fix them by clicking on "coverage" on the left-hand side, after logging in.
Tags in the Open Graph: On social networks like Facebook, LinkedIn, and Twitter, the Open Graph protocol controls what and how information is displayed. It is important to add open graph tags to your content in order to make it look better so that it will be clicked, liked, and shared more. The more people that see your content, the greater the opportunity to earn backlinks, and backlinks certainly increase search results.
Size Images Properly: If your images aren't the right size, resize them. The result will be a faster-loading page, which directly impacts search results. Using Google's Lighthouse tool, you can find images with large dimensions. You can utilize this tool to determine if any images on your page are too large and affect your page's loading speed. It is then necessary to prioritize and properly resize them.
Track and reclaim lost links: The problem with backlinks is that they disappear constantly. Losing links to high-value assets can negatively impact search results for that page's keywords. It is therefore imperative that you keep an eye on a website's overall backlink profile and the backlinks pointing to its high-value pages. SEO tools such as Ahrefs make it easy to do this.
Keep Your Content "Fresh": Updated and accurate content has been rewarded with higher search results during Google's last few algorithm updates. We recommend reviewing your content every six months. Find a resource that could be improved, and then improve it.
Avoid Intrusive Interstitials: Google will penalize web pages with intrusive interstitials in search results, particularly on mobile devices. You may ask, "What exactly are intrusive interstitials?" They are pop-up advertising messages that cover the main content of a webpage, either immediately after a user lands on the page or shortly thereafter. Pop-up ads are a good example of this. The exception to this rule can be found in cookie policies and age verification.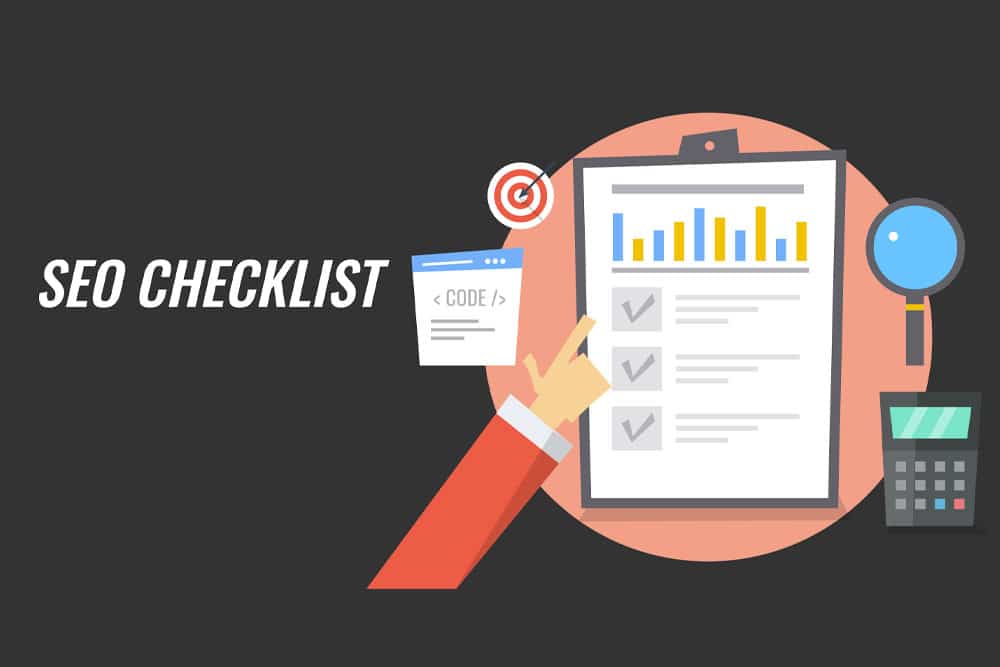 Congratulations, You've Reached The End Of Our On-Page SEO Checklist!
Our on-page SEO checklist covered a lot of ground, and we hope that you found it useful. What is your first step toward implementing today's on-page SEO checklist? Perhaps it was the unique images? Changing your title or adding modifiers? Let me know what you think in the comments!
What is the biggest challenge your business faces when it comes to on-page SEO? Our Atlanta SEO company recommends installing the SEO Rank Math plugin to help guide you in optimizing the SEO on your website. Let us know if you need assistance. Our clients benefit from our on-page SEO checklist among other WordPress SEO services. Get your SEO analysis now!