It's no secret that SEO is important for businesses. Without showing up on the first page of Google you won't be able to get traffic to your website, and the only way that you can get traffic is by having your business show up on the first page of Google. One of the most important tools that you can use to help you with SEO is the Rank Math SEO plugin . This is an SEO plugin for WordPress that provides you with some very powerful features that you can use to help you out with your SEO.
What is the Rank Math SEO plugin for WordPress?
The Rank Math plugin for WordPress simplifies search engine optimization by offering recommended best practices based on widely accepted SEO best practices. You can easily customize important SEO settings, choose which pages are indexed, and how you want your website to show in search results by using Structured data. Structured data is code that is added to your website so that search engines can better understand your content.
Setting up Structured data for SEO (or Search Engine Optimization) is not difficult, but it does take time to understand how it works. The Rank Math plugin makes the process easier because it allows you to customize your settings quickly and efficiently.
Choosing which pages you want indexed and how you want to appear in search results is only the beginning! You'll need to figure out how to optimize your Google listing, communicate with the search engine bots, and more to get your website to the top of the search results. Structured data is just one part of SEO.
If you aren't sure how to get started, be sure to check out the Rank Math SEO help documentation. It will walk you through the steps for setting up structured data on your website.
How To Install the Rank Math SEO Plugin?
The plugin is easy to install and integrate into WordPress. The installation of the Rank Math plugin is the same as any other WordPress plugin. A few things to keep in mind:
Once installed, you can access the plugin by going to "SEO" under the "Plugins" menu on the WordPress dashboard. It will also show you the plugin's version number which you can check for. For more information on the plugin, check out how to properly setup Rank Math.
What are the advantages of Rank Math SEO plugin?
Quick and Easy Setup Wizard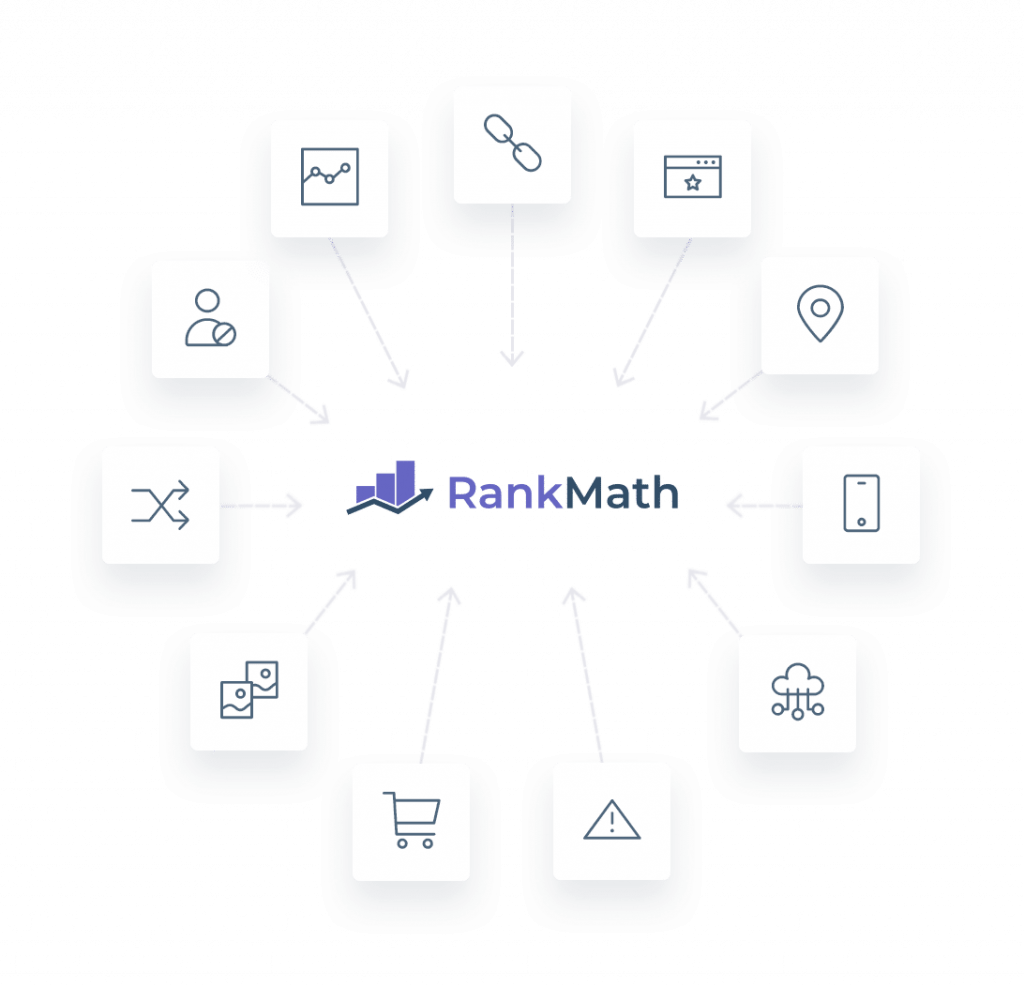 Rank Math configuration is practically automatic. With Rank Math's step-by-step installation and configuration wizard, you can set up SEO for WordPress in no time at all.
Rank Math verifies your site settings upon installation and recommends the best settings for the best performance. The user-friendly wizard then sets up your site's SEO, social profiles, and other SEO settings.
User Interface Is Clean & Simple
Rank Math is designed to give you the most important information about your post at a glance. The interface is simple but can help you notice new insights about your posts. This information can help you make the most of your every post on social media.
Rank Math will let you preview how your posts will appear in SERPs, what types of rich snippets they will have, and even how they'll look when shared on social media.
Module for Advanced SEO Analysis
RankMath closely monitors what's going on in Google Search Console and presents it right in your WordPress admin dashboard. You can see your keyword rankings, sitemap status and any indexing issues all in one place. This makes it quick to identify orphaned pages and fix any errors on your page.
Integration with Google Analytics
With meaningful insights, find out everything about your website. You can track your stats without ever having to leave the comforts of your WordPress Dashboard. It is an incredible feature that you will find using the Rank Math plugin.
Keyword Rank Tracker
Rank Math helps you track your keywords' position in Google's search engine results. You can see how many times your keyword has been searched and how often it appears on the first page of Google. This service is great for SEO, content marketing and managing your overall digital marketing strategy.
Watch your website's rankings for the last few weeks and months. You can then compare that data with the content to determine what needs to be done.
Allows You To Generate Advanced Schemas
Schema Markup helps search engines and visitors understand your website in a more detailed way. It's easy to add Structured Data to posts when you use Rank Math. A default category can also be specified in settings, as well as support for numerous Schema types.
Much More Features
The truth is, if you haven't used Rank Math yet, you're missing out on many of its features and benefits. If you are interested in learning more, please visit Rank Math's website*.
Choosing the right SEO plugin can be a difficult decision. There are a lot of SEO plugins to choose from, all with different varying features. In this blog post, we wanted to highlight some of the features that make Rank Math the best SEO plugin for WordPress. We hope that this blog post has helped you understand why Rank Math is a great choice for your website. If you need WordPress SEO services, we can schedule a free strategy session with you. Simply get in touch with our team and we'll be happy to help.
*Disclosure: I only recommend products I would use myself and all opinions expressed here are our own. This post may contain affiliate links that at no additional cost to you, I may earn a small commission.
Frequently Asked Questions, Answered
Is it guaranteed that Rank Math will help you rank higher in search engines?
An installation of a plugin does not, and cannot, instantly or magically increase rankings in search engines. At the end of the day, Rank Math is simply a SEO plugin or software. Using it correctly will determine how effective it is. Those who tell you that installing a plugin will improve rankings over night have another agenda or are just after your money.
Although it has a huge impact on SERPS, it takes much more than just on-page optimization to rank well in search engines such as Google.