The header and footer are often overlooked, but they can have a huge impact on the look and feel of your website. So, what are the trends in the website header and footer design? And how can you create a header and footer that fits your website perfectly?
Here are the trends we've noticed:
Website Header Trends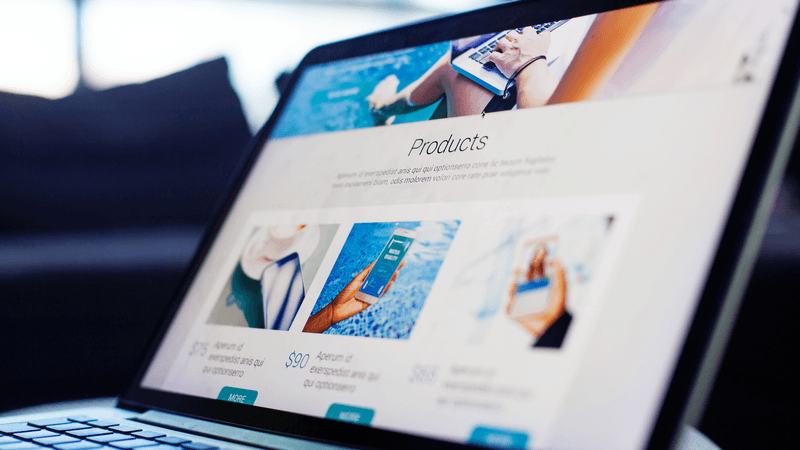 Multi-Level Headers
Every website header must include three elements: the logo, favicon and navigation. Today, many website designers choose to create a multi-level header, which makes your website look more visually appealing.
At the top of the website, you can add additional sections to the header to present visitors with important information. These additional levels can create space for things like a primary call-to-action button (like "Book Now"), a search bar, a Shopping Cart icon, and more.
Mega Menus
Mega menu bars used to be confined to the top of the website. But now, menu bars are becoming increasingly popular as a way to increase site navigation. Instead of cluttering up your header with a bunch of menu items, put them all in one place and make it easy for visitors to find what they're looking for.
Grid Systems
Another popular trend in the website header and footer design is grid systems. A grid system makes your header and footer look clean and organized, which can help your website look more professional. You can use a grid system to create a hierarchy of links, icons, or other elements in your header and footer.
And that's just a small sampling of the trends we see in the website header and footer design.
Left-Aligned Headers
Many designers are choosing to leave their website headers left-aligned instead of centered. This simple change can dramatically impact the overall look and feel of your website.
Why choose left-aligned headers? Most browsers naturally align text to the left side of the screen, which makes it easy for visitors to read your content.
This layout is usually not appropriate for larger websites, but it's a great option for small websites like local restaurants, event agencies, and service providers.
Remember that this header layout is not inherently responsive. For smaller screens, it will need to be converted to a hamburger menu.
Headers With Minimal Content
If you want a header that's minimal in both design and content, look no further than these options. From clean and simple lines to more complex designs, these headers will give your website a sleek and modern look.
The minimal content header typically displays just a logo and a hamburger icon in the left corner. By clicking the icon, the navigation sidebar appears.
If you have a small website, a sidebar menu header would look good. You may want to use a fullscreen pop-up if your users must spend more time in the navigation (like a mega menu).
Transparent Background Header
If you're looking to add a touch of professionalism to your website, consider using a transparent background header. This type of header can help your website appear more clean and sleek, and can also be easily customized to match your branding. Plus, it's a great way to make sure that your website's visitors can see your content clearly.
Website Footer Designs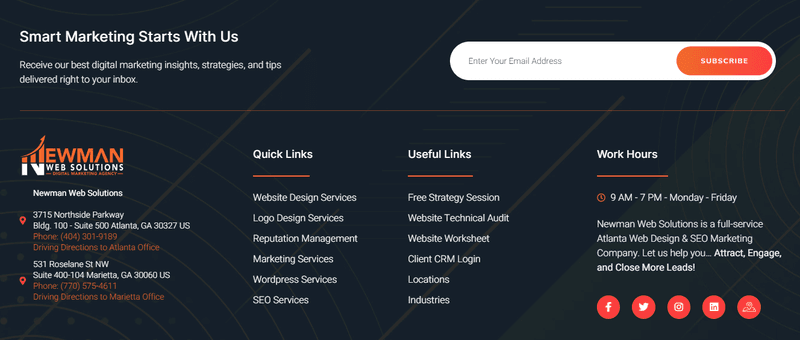 Minimal Black-and-White Footer
This website features a minimal black-and-white footer that is perfect for any type of website. The footer is clean and simple, and it will work well with any color scheme.
Pay-Per-Click (PPC) Footers
Another popular design trend for website footers is pay-per-click (PPC) footers. This type of header displays your current ad campaign stats and other PPC information, which can be useful for visitors who are interested in advertising on your website.
You'll need to create a separate PPC account in order to use this type of header, but it's a valuable way to increase site traffic.
Footer Designs with Media Elements
If you have a lot of photos and videos on your website, consider using a header design that incorporates both elements. You can use photo or video backgrounds to add visual interest or place them in the header as icons or links.
If you don't want to use photos or videos in your header, you can also use background images. This option gives you more freedom to choose what looks best on your website.
Services Footer Design
If you offer any type of service, it's important to include a footer that reflects this information. You can use a footer design that features your company logo, your pricing information, and other important details.
Again, this type of footer is best suited for businesses with a lot of information to include. If you don't have a lot of content or graphics, using a default footer design might be the best option for your website.
Bottom Line
Header and footer design is an important part of any website, and these trends will continue to be popular in the years to come. You will need an impactful logo so if you don't have one, be sure to check out our logo design services – which is the perfect place to start. Talk to an Atlanta web design company to keep your website clean and up to the latest trends!