Schedule Blog Content Using CoSchedule
When creating blog posts for your business, do you find that it never gets done?  Do you start writing a blog post, save a draft and forget about it because you are just so busy with a million other things going on?
Well, I'm not going to lie, as Creative Director of an Atlanta web design company I have that problem myself and I have finally discovered the perfect blog management tool!  (drum roll….) It's called CoSchedule! (yes, this is an affiliate link – we only promote these when we truly believe in the product, read more to find out why!)
What is CoSchedule?
CoSchedule is an amazing editorial plugin that helps you manage your content marketing publishing whether it is for marketing projects, social media or blog management.  It literally is the super hub for all your editorial needs.
What Does CoSchedule Do?
You can plan all you social media posts and promote them all from your CoSchedule calendar and the best part is that it integrates beautifully with WordPress.
If you use the CoSchedule plugin you can manage your entire blog process in directly from your WordPress website. How convenient is that?  We love software that integrate seamlessly with other tools we use on a regular basis, it just makes our job so much easier.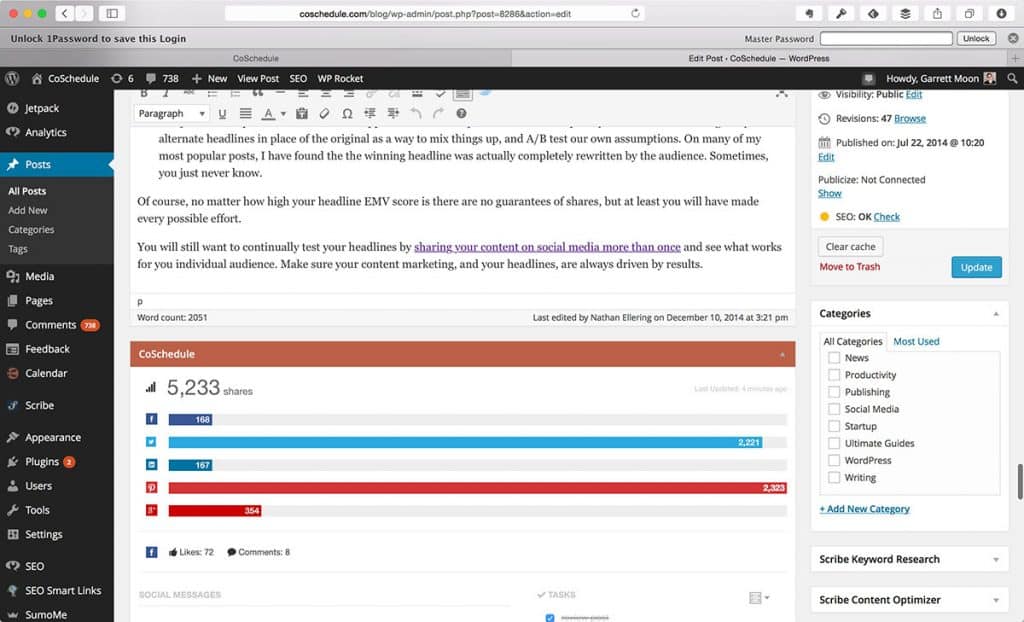 Other CoSchedule integrations worth mentioning are (and we DO use them all):
Google Docs – Connect Google Docs and you have a blog post generated directly from your Google Docs account! You can even collaborate with your team in the same document, and use CoSchedule's team workflow to maximize efficiency.
Evernote – Write content and convert to WordPress blog post much the same as Google Docs.
Google Analytics – Track website traffic with GA link tracking & reports. CoSchedule adds UTM tracking tags to all of your links for better tracking in Google Analytics. Every link is unique for each social network. You are able to track each blog post that is shared across all your social networks.
Headline Analyzer – Analyzes and helps you write awesome headlines! This is a ridiculously amazing tool by the way.
Google Chrome Extension – Conveniently share content from anywhere to your social profiles including Twitter, Facebook, LinkedIn, Google+, Tumblr & now Pinterest.  And seriously, who doesn't use Google Chrome these days?
Aside from the fact that CoSchedule makes managing all your blog posts easy,  it's the insane ability to schedule curated content from anywhere on the internet right onto your editorial calendar where you manage all of your social media projects. This way you know exactly how many shares you schedule every day and when they will post.
How Much Does CoSchedule Cost?
CoSchedule is a premium software tool so you do have to pay for it. They have a free 14 day trial though and you can select from several plans the one that fits your needs best.  You really can't beat the price for all that it actually does if you value efficiency.
Initially, we thought we would be adding more monthly costs to our overhead and another tool to our collection to manage. In reality, it really didn't cost us anything more in fact it saved us money. CoSchedule is so robust that we were able to replace two other social media marketing tools we were using while getting the same thing done and more!  Now that's what I call efficiency!
CoSchedule from Garrett Moon on Vimeo.