Search engines test your websites in the race of 'Top search results' for a search query.
But you don't need to worry about all of them.
As per the latest data, Google ranks as a top search engine with around 94.87% of the worldwide desktop market share.
Google serves you those rich results in the SERPs which make the most sense to the search intent of your query.
The SEOs track this ranking mechanism by Google to find:
What does the first page of the search look like?
What is the intent of the searchers?
What are the searches doing with this information?
Also, once you optimize for Google SERPs, it will also push your content in Google Discover.
But before we learn about how to optimize for search results, check your website using the SERP checker.
Now you have a fair idea about your website's SEO performance. It's time to optimize for high rankings in Google search results.
Everyone wishes to get first page Google rankings.
Here are 14 different types of search results that can help you achieve it:
Organic Blue-Link Results
Paid Ads
Featured Snippet
Local Pack of top 3
Knowledge Graph and Knowledge Panel
Image Pack
Video Pack
Sitelinks
Shopping Pack
News Pack
Jobs Pack
People Also Ask
Related Searches
Movies Pack
Let's start with the organic blue searches.
1. Organic Blue-Link Results
Google has been serving blue-linked search results traditionally since it came into existence in the 1990s.
It is composed of:
Website URL (above the headline)
Blue-linked headline (web page title)
Meta description (below the headline)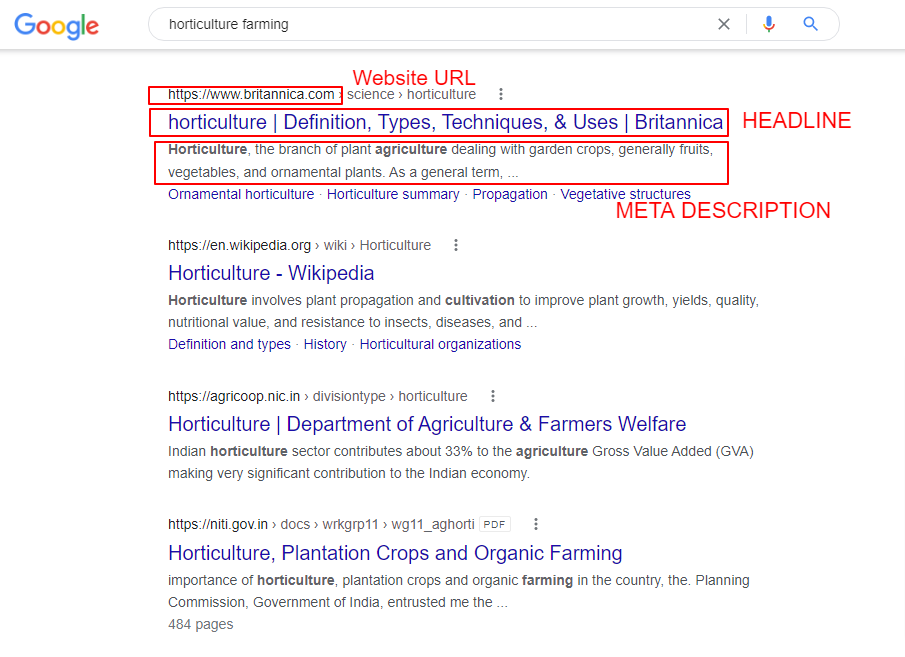 For becoming eligible for these search results, you must improve your site's:
On-page SEO
Off-page SEO
Technical SEO
This feature is a Pandora's box, as the whole practice of SEO is built around it.
You must follow this guide to understand SEO.
Unfortunately, Google pushes the organic blue-link results below featured snippets and other visual search features.
Don't panic; you can optimize your website for featured snippets too.
2. Featured Snippets
The featured snippets dig a piece of content from a web page to provide quick (sometimes zero-click) answers to a query.
They appear for long-tail question form queries, in any of the 3 forms: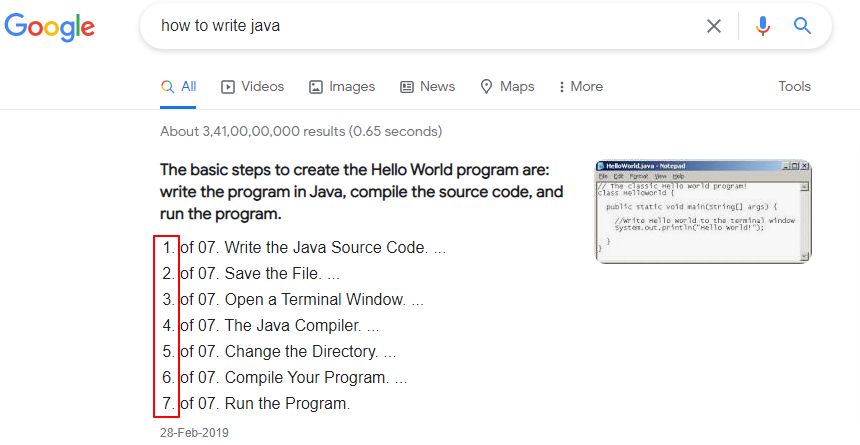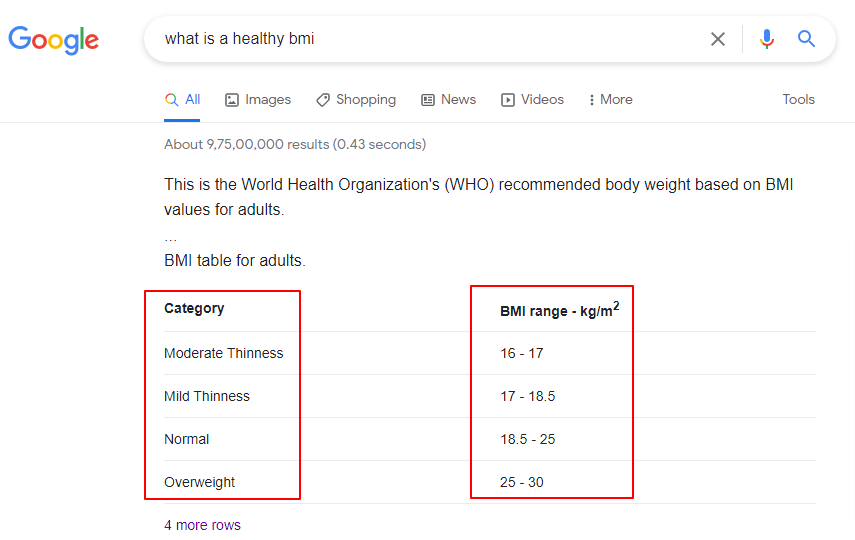 If you wish to appear in featured snippets for relevant search queries, follow these tips:
Be aware of relevant longtail questions
Identify best keyword opportunities
Match the format of your content to the top target query answers
Answer the questions concisely
Note: If your website is ranked as a featured snippet on page 1, then it won't be ranked in organic blue-link results on the same page.
You should decide which choice will rank you for the top page – featured snippet or organic blue link.
There's another way to reach the top position in SERPs – Paid Ads.
3. Paid Ads
In addition to the text "Ads" before the URL, Paid Ads follow the same format as organic blue-links.
Google serves paid ads based on a combination of both cost-per-click bids and their relevance. Though only 4-5 Ad URLs appear when searched for the respective intent.
So, it is competitive, but you can crack it if you optimize your website following Google's mechanism.
Note: Paid Ads will push down your website even if it has a huge brand image.
Suppose you own a pottery shop and have spent years building your brand's value in the market. Your website will show at the top of the search results for the same.
However, if you decide not to purchase Google Ads for your shop, a handful of your competitors, who bid specifically for the same keywords, will show up first.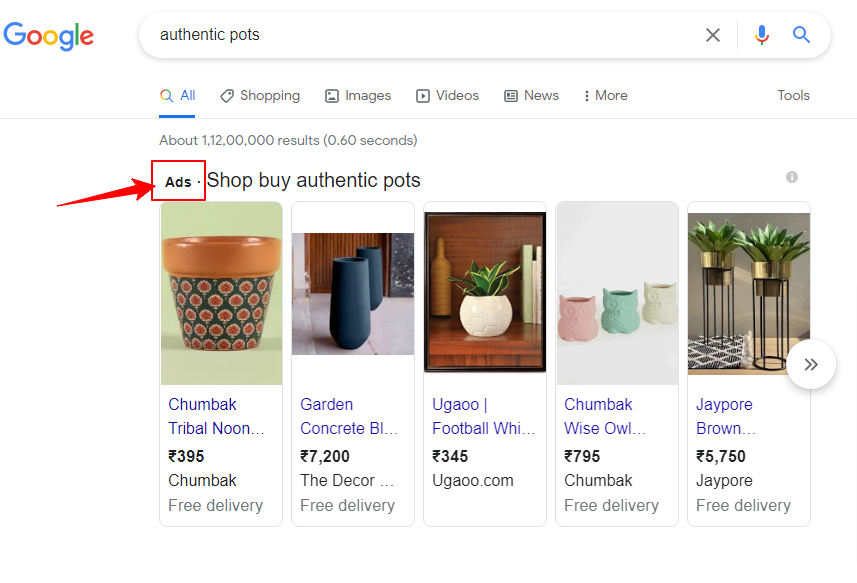 Sad, but it's true.
Though there's a way to tackle this – featured snippets.
Also, it's better if you optimize for local searches.
4. Local Pack of Top 3
Whenever a user searches for any 'near me' type query, Google shows a visual listing attached to a map.
The list comprises of top 3 businesses Google considers to be:
Most relevant to the intent
The highest quality business
Most convenient to the searcher's location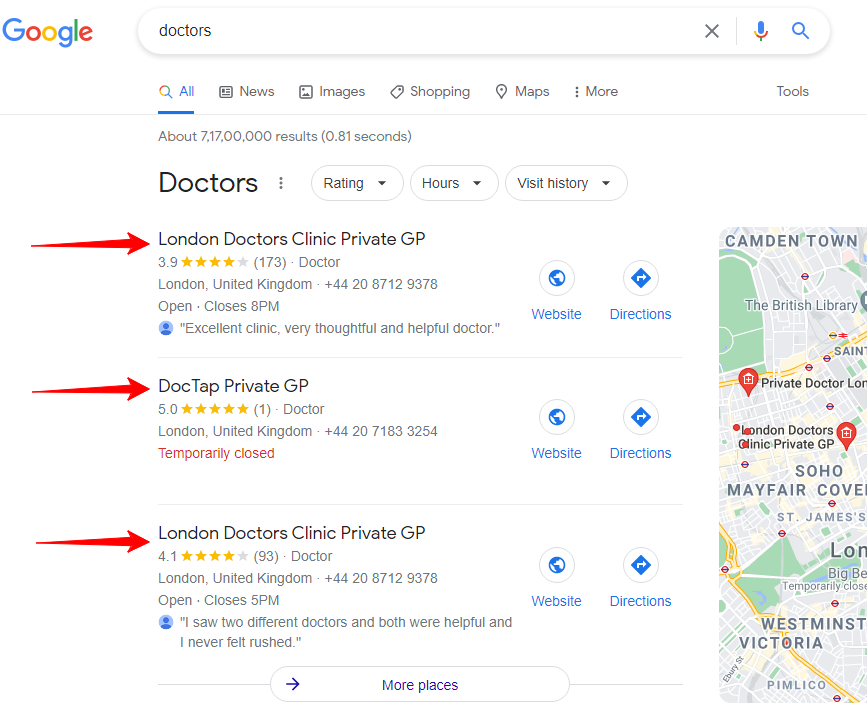 For this, you need to follow some basic strategies:
Understand the features of Google My Business (GMB)
Put accurate, updated and complete information about your business
Remember to get reviews and ratings from your clients
Pro tip: You can add a new feature to your GMB in the form of support or donation links, gift card links, etc. This step is taken to support the small businesses affected by the Covid-19 pandemic.
After optimizing for local searches, you can aim for knowledge graphs.
5. Knowledge Graph And Knowledge Panel
Search for any single entity on google, like, an actor, a monument, anything.
Did you see a panel on the right side of the searches showing a holistic view of the subject you just searched?
Well, that's the knowledge panel.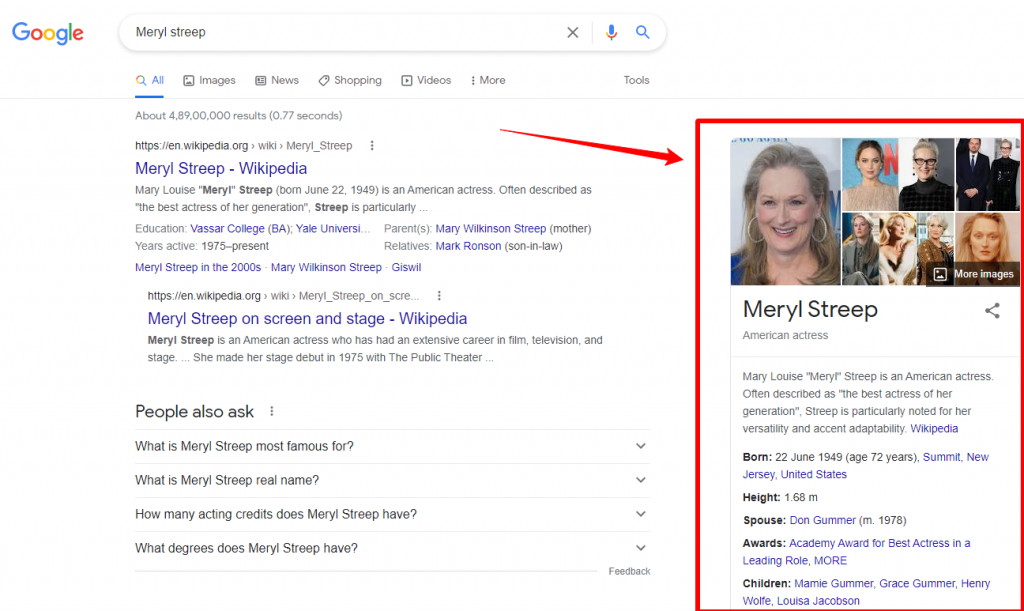 And, the knowledge graph refers to the mechanism of Google to pull this information from various sources.
Your business can be optimized for this if you:
Use schema markup on your content
Rank your content on a knowledge panel as one of the links
Optimize a knowledge panel about your business or yourself
Remember, the knowledge panel links have become more interactive than before.
You should track the knowledge panel attributes available on the panels associated with your top keywords. This will enrich your content for associating with the knowledge panel links.
Now let's optimize the ranking for Google image search results.
6. Image Pack
It's rightly said, "Your memory captures images more than texts".
Google applied this in its image search pack.
If you search anything in Google images, it shows a pack of top-ranking images for that search intent.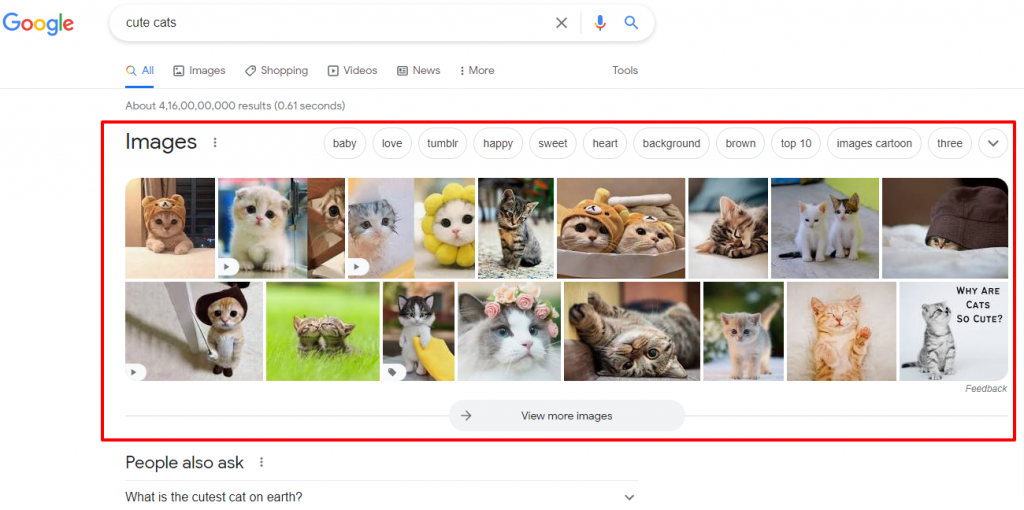 Your images should have the following to appear in Google's image pack:
Image filename
The alt attribute on the image
Image caption
Relevant surrounding text content
Small image size
Page title
Page URL of the image
Note: Do not misinform Google about the intent of your image. Its Google lens initiative can tell what is in the images even without these attributes.
Also, do you have a channel on Youtube?
Here's how you can do YouTube SEO and get your videos to the top search results.
7. Video Pack
What do you see first when you google "Dosa recipe"?
You got it. A list of videos making Dosa.
A video pack is a window-style feature that shows several window-type links to videos relevant to the query.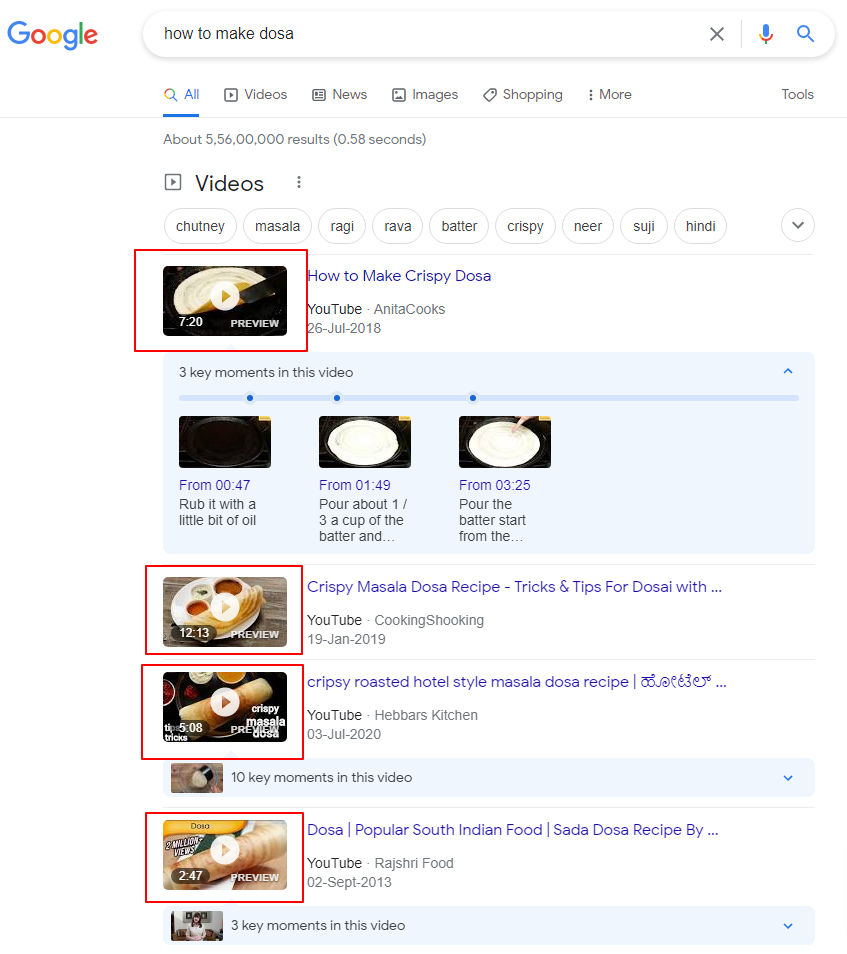 You need to have a Youtube channel to rank high for these queries.
Google prioritizes Youtube videos over other ones even if your website's videos are more relevant to the search query.
Pro tip: Remember to use keyword research and suggested searches to put the title for your Youtube video.
Let's come back to your website when you're done with Youtube.
Do you know you can have your website's navigation links directly on the search results page?
Yes, here's the way.
8. Sitelinks
Google puts a cluster of navigation links under the web result from the same domain.
With this, your website's link structure is analyzed to find shortcuts for the users.
It provides the links to the users to navigate to the information they are looking for quickly.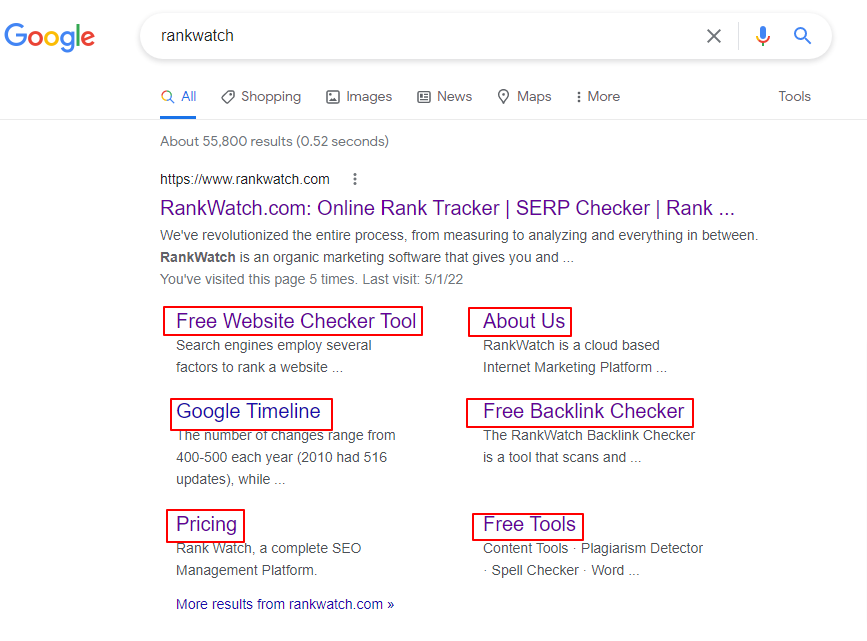 Google still automates this process.
But you can optimize for sitelinks if you:
Keep internal links updated and precise
Use informative alt text for images
Use relevant anchor text in the content
Also, you can bring your potential customers directly to your products through a shopping tag.
9. Shopping Pack
Is your website selling a product or a service? Well then, this is important for you.
Google surfaces the shopping pack whenever it recognizes the search intent to be:
Either transactional
Or, intending to buy something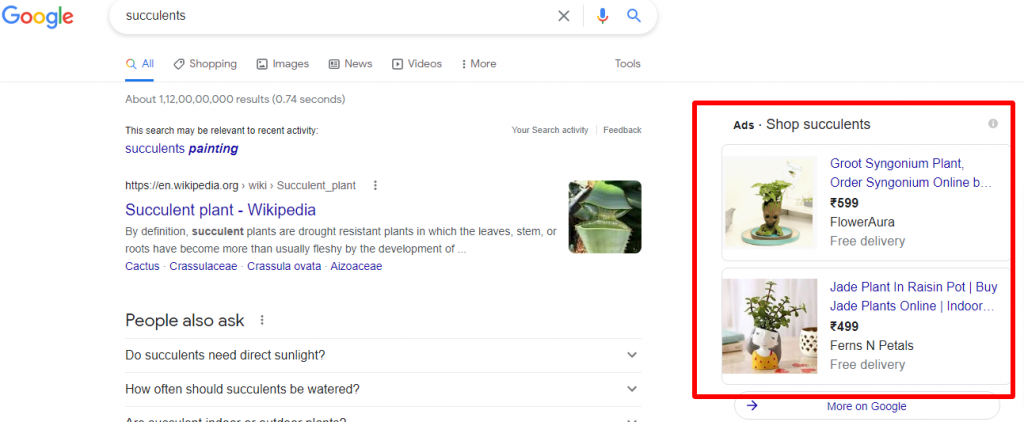 To become eligible for such search results, you need to set up an account on Google merchant center.
While doing so, here are some tips to follow:
Think strategically about your customers
Highlight essential product details
Use high-quality images
Provide relevant product data
Fortunately, Google has announced free shopping listings, on both vertical and organic results, as a relief due to the Covid-19 pandemic.
So, this is more of a boon to businesses selling online.
Does your website broadcast news? Well, Google has something in store for you too!
10. News Pack
You must have seen a card-style feature as "Top Stories" whenever you search for any news-related query.
That's the news pack of top news sources.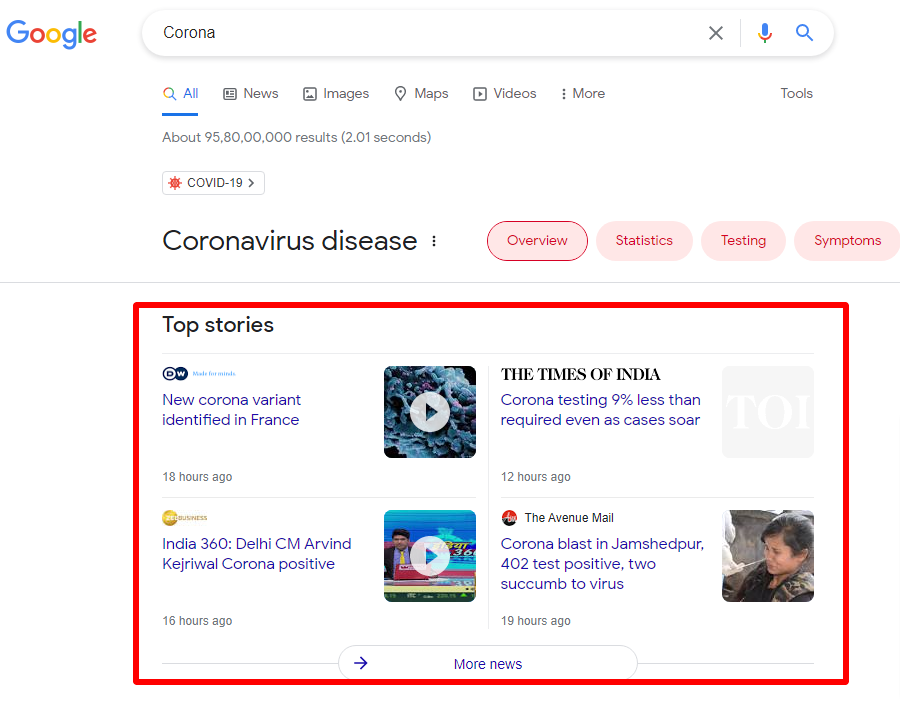 For this, your news website should have a schema markup tag, which will let the crawlers know that it's a timely news story.
You can follow the guide to implement this on your webpage.
Pro tip: With changing world events, Google changes its search features to match the search intent.
If you search for Venezuela, one day, it may show a map and its historical summary and the next day show up as "Top stories" about Venezuela's economic crisis.
Keep this in your mind while you search for ranking opportunities.
With this, let's know how to get job applicants directly to the vacancies.
11. Jobs Pack
Do you want job applicants to apply for you first?
Here's the answer.
Google shows up a job pack of top 3 vacancies whenever a user searches for employment related to that job.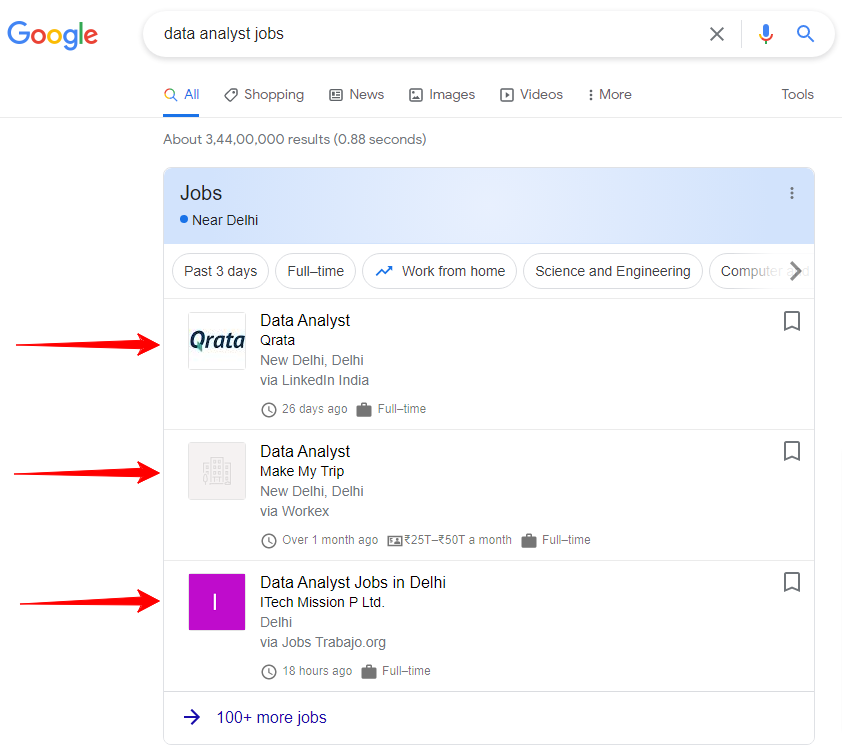 There are 3 ways through which you can optimize for this:
Add jobs markup structured data to your site
Integrating with third-party job posting platform
Mimic the terminology Google uses for filters in your job listing
If you want to post for work-from-home jobs, Google has its solution too.
Is your content answering all the queries related to your keywords?
Let me tell you more about it.
12. People Also Ask
Do you know why we prefer Google for every question?
Well, because Google not only provides the answers to our questions but also questions and answers related to them.
That's what the "People Also Ask" feature is. It is a dropdown menu of questions that appear on the SERPs for every query you google.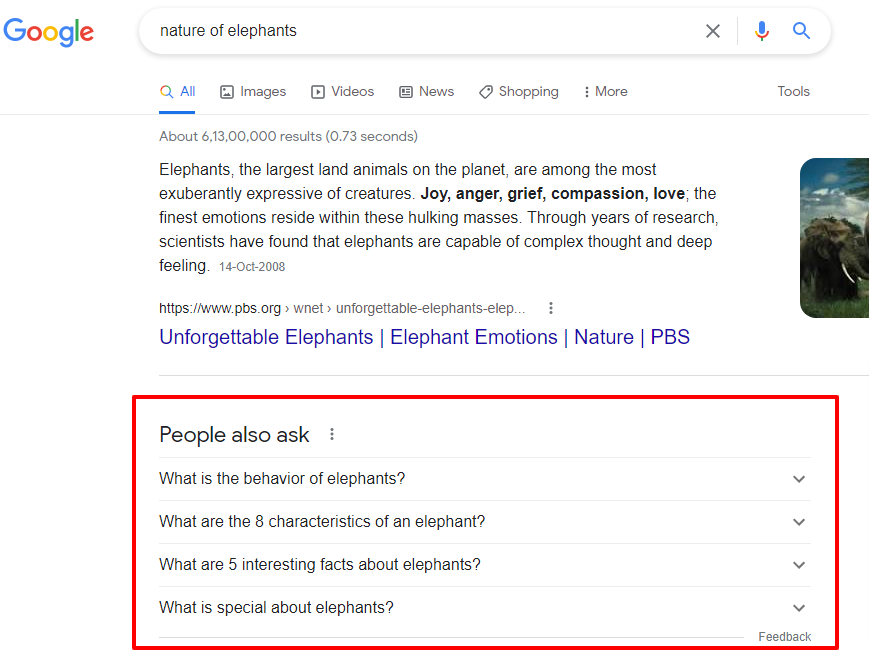 The best way to optimize for this is to use a question-answer-based approach for topic selection.
Remember to answer concisely for fundamental questions and also for those questions that are related to your content.
Sooner or later, you'd start showing up in the 'People Also Ask' search results.
Does your website broadcast movies? Here's how you show up in the search.
13. Movies Pack
The movie carousel helps users explore lists of movies on Google Search (for example, "best movies of 2021").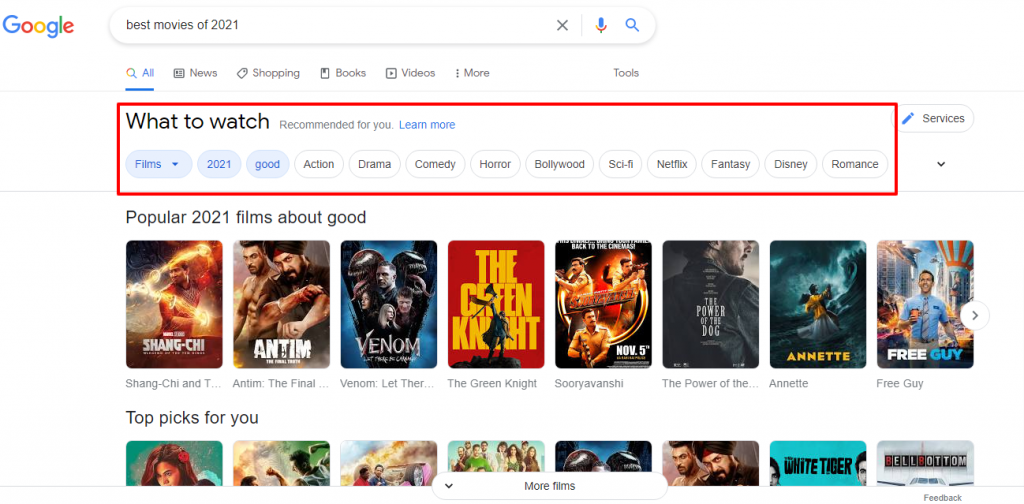 Google ranks movie tags with high quality and relevant content in its top search results.
To optimize for this, add the relevant movie structured data to your website.
You must provide all the details about the movies, such as the title of each movie, director information, posters, etc. to get there.
Lastly, know where your customers are going next and what they want to know.
14. Related Searches
It happens rarely, but sometimes you may end up at the bottom of the search results page.
Even then, Google helps you find your way through the "Related Searches" feature.
This feature has 8 additional links that populate new Google searches. It shows the next logical question a user may look for related to the search.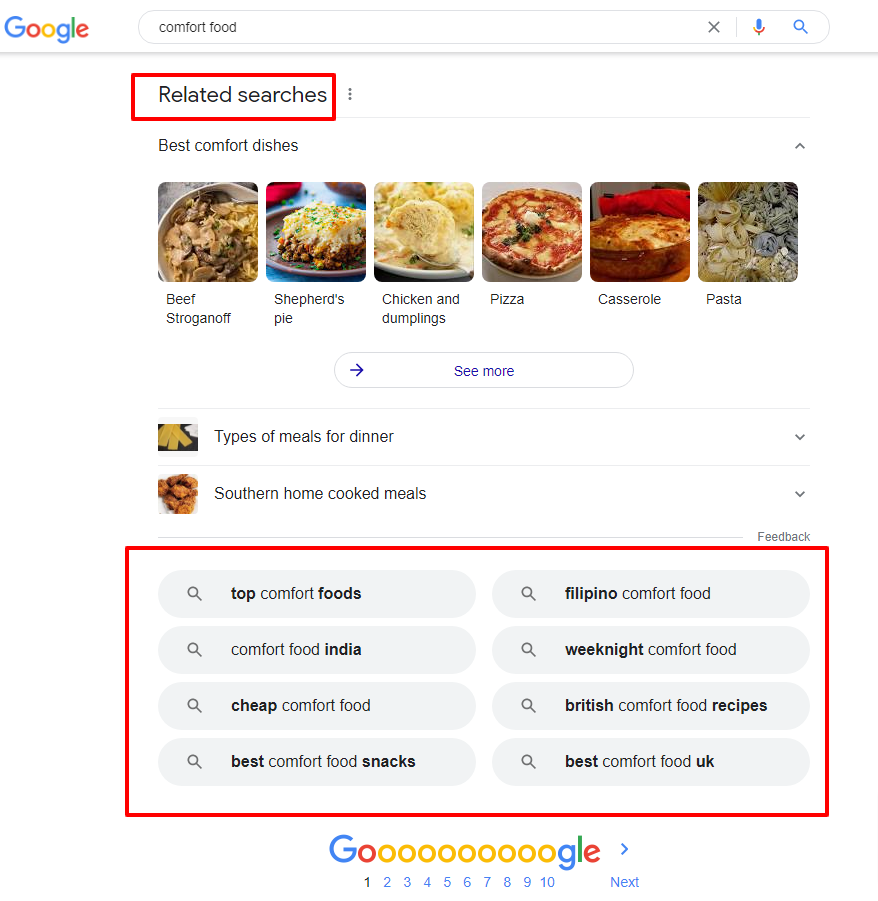 You should follow these steps to optimize for this feature:
Track related searches for your fundamental keywords
Upgrade your content answering those questions too
Infiltrate the wants of your potential customers into your content
If you have optimized your website in the right way, you can easily rank for your desired search results.
Don't aim for all of them at once. Go step by step. Select the ones that are relevant for your business and optimize for them first.
I'm sure rankings on Google will be interesting for you now!
Conclusion
The search intent of the user decides Google's search result approach.
Eventually, Google gives precise clues to SEOs about – what type of information searchers want and what they intend to do with it.
Your purpose is to select which of these features appear for your business's top keywords and optimize for the same.
With that, you'll go a long way in the SEO game!
Which of these search results have you never heard of? What problems are you facing with optimizing for search results? Let me know about your issues in the comments.