Your spa salon might get lost in the crowd if you don't have spa marketing ideas and strategies to generate traffic and leads for your business..
These spa marketing ideas will help you boost your business, and you will learn how to use them for your spa.
1. Add Your Spa To Google Maps
First you need to make sure your spa business is visible online. When people search online for a spa near them, you want them to be able to find and pick your spa. Usually they search Google Maps for local businesses.
Your salon can appear on Google Maps by registering on Google My Business. It is absolutely free, quick, and easy, but the benefits of having your business listed on Google Maps are tremendous.
2. Create A Professional Website For Your Spa
When you wonder how to promote your business online, having a website is an excellent choice. People are more inclined to visit your spa if they have a positive impression of your business online.
A website allows you to showcase your beautiful spa, provide information about your services and opening hours, as well as answer some questions that customers might have before contacting you.
Whether you decide to hire a specialist or build it yourself, a professionally designed and engaging website for your spa business will go a long way towards helping you attract visitors. Ask us about our creative web design packages.
3. Make Spa Bookings Convenient
You will have more spa appointments if you make it easy for people to book their spa appointments. An online booking system is a must for any spa marketing strategy. If you haven't implemented it yet you are losing business and losing money right now.
With a spa online booking system, clients can book their own appointments online, which is much more convenient. Not all customers are available during your business hours. Having a phone that never stops ringing makes it difficult to give your undivided attention to a customer, which is not the best experience for the client. Clients expect your undivided attention.
4. SMS Marketing For Spas
This is another spa marketing idea you can't ignore. SMS marketing has not been used as much for spa marketing as it should be. While some people don't open emails, almost everyone reads texts.
In addition to promoting special offers and promotions, you can also send appointment reminder texts to remind your clients about their scheduled appointments. This will reduce the number of no-shows to your spa and save you money.
Sending these text messages manually isn't ideal since it isn't productive and scalable. Instead, you can set messages to be sent automatically, based on your preferences, using a spa business management app.
5. Consider Using A Selfie Booth At Your Spa
Have you ever wondered how to attract customers to your spa without spending too much money and time? Set up a selfie booth or a selfie station! You will get to raise your brand awareness while providing your customers with a fun and engaging experience!
This way, your clients will become your brand ambassadors and you will have real, happy people promoting your brand. What a great idea for spa advertising, isn't it? People like to take selfies and share bits of their lives on social media.
6. Birthday Program For Your Clients.
By implementing a birthday program, you can build customer loyalty. It's always the little details that make a business stand out.
Spas haven't used this technique much, which is what makes it so great. While popular spa marketing ideas are great, the less popular but effective ones are the real gems!
Your clients will appreciate the automated messages wishing them a happy birthday and offering them a free spa treatment during their birthday month.
7. Program For Referring Friends
Spa marketing is primarily about bringing in referrals. The key to bringing in more referrals is providing excellent services that make people recommend you to their friends and family.
Even so, encouraging your customers to talk about your services can boost your spa marketing. An incentive program could be a discount for both the referring customer and the new one, or a free experience for everybody that refers another client.
8. Reward Cards For Spas
A reward card is a great way to encourage repeat customers, and you can also offer discounts or free appointments to clients who purchase a certain number of appointments with you.
9. Spa Gift Cards And Certificates
One of the best marketing ideas is to invest as little time and money as possible into the execution. Selling spa gift cards is an inexpensive way of attracting new clients and selling more services.
Spa gift certificates need not be real cards or costly. You can just print a free spa gift certificate template that you love and save on paper and print costs.
In case you don't want to print them yourself and want something a little more personalized, you can use Vistaprint to purchase a spa gift certificate template, customize it, and have them print and mail it to you.
10. Take Advantage Of Online Reviews For Your Spa
One of the best spa marketing ideas is word of mouth, and that's exactly what online reviews are-as new as word of mouth.
Although many people are satisfied with a business, leaving a review does not always come naturally to them. The chances are that they don't even realize how vital reviews are, so make sure to tell them. Encourage them to leave reviews for your spa business and thank them for the opportunity.
Be sure to answer a negative review politely. Ask the customer about their frustration and find out whether there is a way to fix it. Your response will affect your reputation.
11. Spas Can Benefit From Social Media Marketing
Social media marketing has become essential to business these days, and businesses want to reach their customers where they are!
Using social media to promote your spa is one of the most inexpensive spa marketing ideas. You'll have to commit a bit more time and effort, however, since social media is definitely a long-term strategy.
Growing your social media channels and following takes time, but the reward is well worth it, as word-of-mouth is best spread through social media.
12. Create Contests And Giveaways
In my opinion, this is one of the spa marketing strategies that works best when done on social media. Having giveaways on your website or offline may be more effective, but people will know less about it. The purpose of the giveaway is to get your business in front of as many people as possible. Social media makes that possible.
Spa giveaways generally consist of services or beauty products. This spa promotion idea does not require a lot of money. The only cost is the time and prize you will put into managing it.
What you are offering needs to be tempting enough to attract a crowd. This is the secret to getting an audience.
13. Packages For Spa Treatments
If you sell your spa services in special spa packages, you'll sell more services per appointment and encourage your clients to make more appointments. Your customers will feel as if they are getting a better deal and will feel as if they have made an amazing deal if you give them a discount.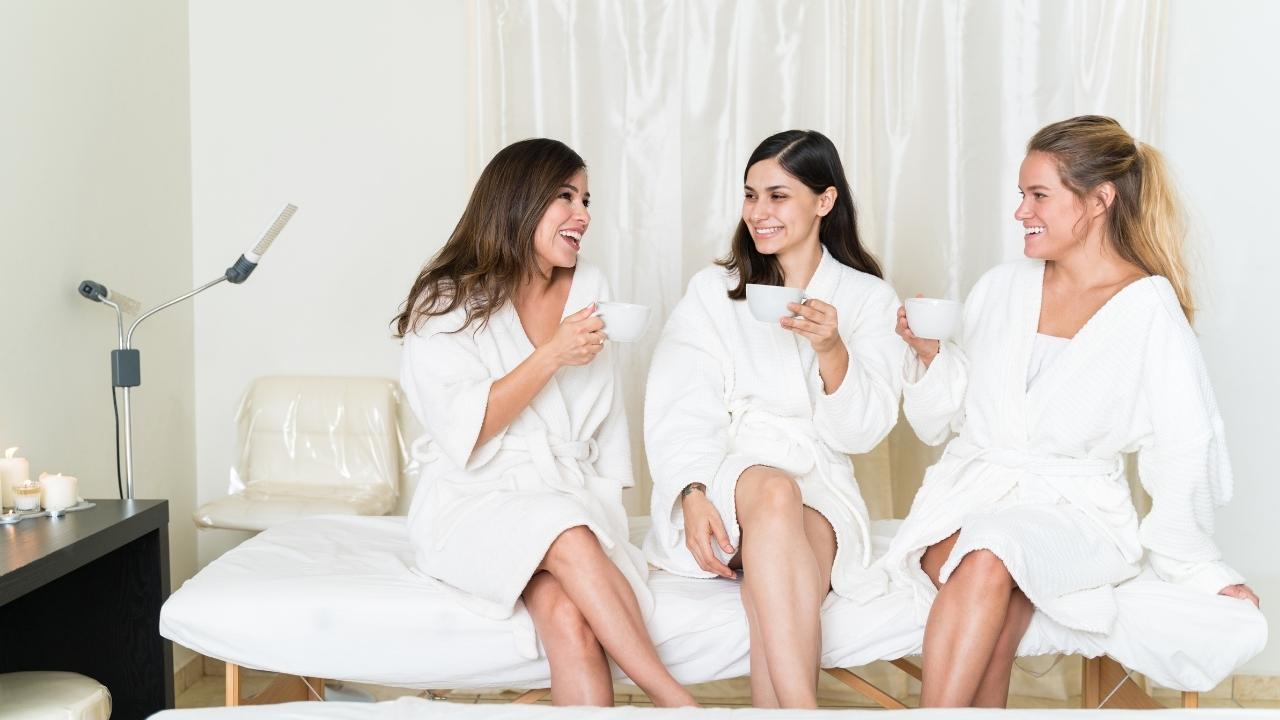 14. Invest In The Decor Of Your Spa
Getting your customers to come back for a second appointment can be difficult. Spa studies reveal decor to be the second most important factor considered by customers when deciding to book another appointment. First place goes to staff attitude and professionalism.
Invest in your spa decor. It is extremely important that your spa decor and vibe match the experience your customers are looking for. No matter how much time and money you spend on marketing, if you don't offer them the best possible experience.
Get Help With Spa Marketing Ideas and Strategies Today
With the best spa promotion ideas in hand, it's time to create your spa marketing plan and implement them to see which works best for your business. Contact us for a free strategy session to see if our services can benefit your business.
Let us know what your favorite ways are to market your spa in the comments below. Would love to hear about them.