As a business owner, you know that in today's digital world, it's crucial to reach customers. In the HVAC industry, staying ahead of the competition requires innovative strategies such as Local Service Ads (LSAs). Employing a successful HVAC local service ads campaign can help your HVAC business develop trust with potential customers, as well as strengthen your business.
But what exactly are LSAs? Google's Local Service Ads are designed to connect users with local businesses providing a particular type of service. These ads can be displayed as the top three listings in a Google search, or in a special section titled 'Local Services' that is separate from the ordinary Google search results. This way, customers searching for a specified service can easily find and contact local firms that they feel they can trust. Thus, businesses looking to increase their online presence and upgrade their standing should become familiar with how LSAs function, and comprehend the advantages they contain. In this blog post, we'll outline the basics of local service ads.
I. What Are HVAC Local Service Ads?
When it comes to attracting new customers, HVAC contractors often benefit from taking advantage of Google's local service ads (LSA). LSAs are Google-managed ads designed to allow customers to quickly find and connect with local contractors that can meet their HVAC needs. Through these ads, which appear at the top of local search results for related keywords, customers can easily get the information they need to contact an HVAC contractor in their area. LSAs are a great way for businesses to increase their visibility and start making connections with potential customers.
II. The Many Advantages of HVAC Local Service Ads
HVAC Local Service Ads (LSA) offer a unique and powerful opportunity for HVAC contractors to reach potential customers in their geographic area. These ads are an effective way for a business to increase their visibility, positioning them as a top choice for those looking for HVAC services in their area. Here are just a few of the advantages that Google Local Service Ads can offer to HVAC contractors:
You're More Visible in Your Target Market – When you advertise through Google Local Service Ads, your business will be prominently featured in Google's Local Finder, giving potential customers instant access to your services.
You'll Receive Quality Leads – Google Local Service Ads are designed to link you with quality customers who are looking for services within your target market. This helps ensure that you're connecting with individuals who are more likely to become return customers.
You Can Easily Track Your Results – LSA allows you to easily track your ad performance and adjust your strategy accordingly, helping you make sure you're getting the best results for your investment.
You Can Receive Reviews Easily – By advertising through LSA, you'll be able to generate reviews directly on Google, which will help improve your credibility and trustworthiness with potential customers.
With HVAC Local Service Ads, HVAC contractors can tap into a new customer base and expand their presence in their local market. If you're looking for a cost-effective and straightforward way to increase your visibility and reach potential customers, then Local Service Ads are the way to go.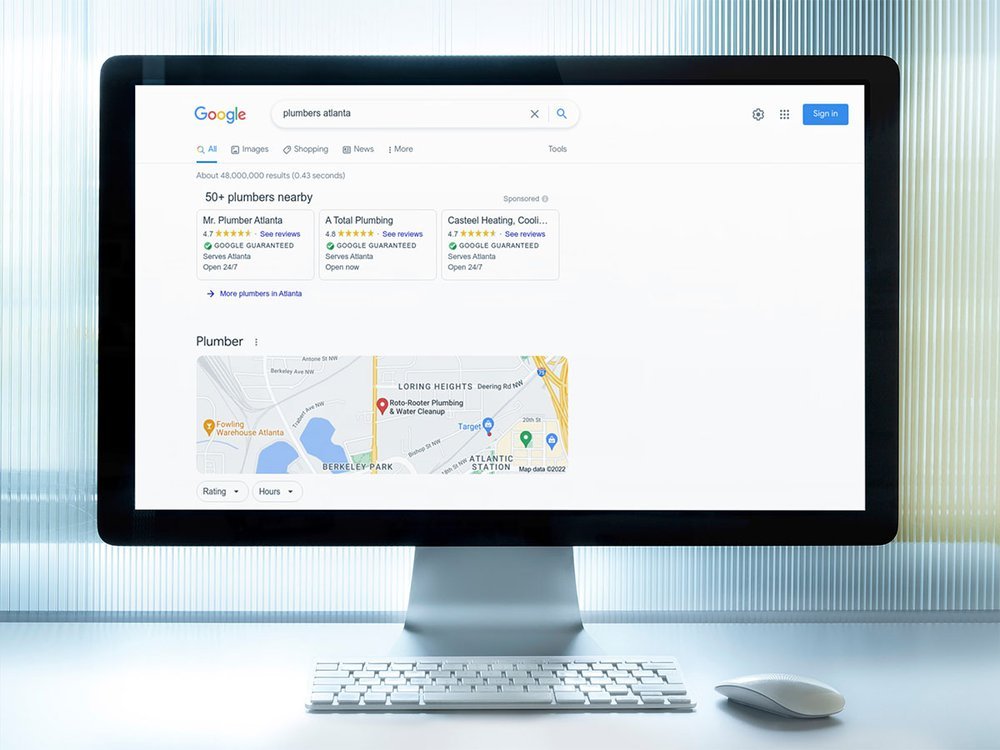 III. Strategies for Getting the Most Out of LSAs: Maximizing Your HVAC Business' Local Presence
Google Local Service Ads (LSAs) can be a great way for HVAC contractors to grow their businesses. Whether you're a new contractor just starting out or a well-established business looking to reach more customers, LSAs can help you reach local customers who are specifically looking for what you have to offer. Here are some strategies for maximizing the effectiveness of your LSA campaigns and reaching more local customers.
First, it's important to understand how LSAs work. Google allows you to set up ads for specific services, such as air conditioning repair or furnace installation, that appear in relevant search engine results. The ads are targeted to local customers, making them more likely to click on your ad and contact you.
Once you have a basic understanding of how LSAs work, it's time to start setting up your campaign. Start by researching what keywords people in your area are searching for when looking for HVAC services. Focus on locally specific terms, such as the name of your city or region. You can also use competition research to see which terms competitors in your area are using in their campaigns.
Next, you'll want to make sure your listings are up to date and accurate. From optimizing your listings for HVAC SEO services to including testimonials and customer reviews to creating targeted offers, there are many ways you can make sure your listings are as attractive as possible.
Finally, use data to regularly track and analyze the performance of your LSA campaigns. Measure the success of each term, and adjust your efforts accordingly.
IV. How to Get Started with HVAC Local Service Ads
Are you an HVAC contractor considering using Google Local Service Ads (LSAs)? If so, you're about to join the ranks of contractors who are taking advantage of this powerful, cost-effective way to reach local customers. With a few simple steps, you can get started on the road to success with LSAs.
The first step to launching your Google LSA campaign is to create an account with Google My Business. With this account, you will be able to upload information about your business, including contact information, images, and services. Once your account is created and verified, you'll be able to submit your business for approval to be included in the LSA program.
After your business is approved, you'll need to set up your account to manage your advertising campaigns. You'll be able to select the type of service you're offering, as well as defining a geographical area where you'd like to target potential customers. You'll also be able to set a budget for your ads and create custom offers to include with your ad.
Once that's done, it's time to get the word out about your business. You can start by adding your HVAC local service ads to any of your existing digital channels, such as your HVAC website, email list, and social media pages. Additionally, you'll be able to take advantage of Google's features, such as displaying your ad as part of the organic search results when customers look for HVAC services in their area.
By taking advantage of Google Local Service Ads, you can increase your reach and get more customers. Making use of HVAC local service ads can expand your customer base and give your business a boost.
Conclusion: Get the Most Out of Your HVAC Business with Google Local Service Ads
It's no secret that HVAC contractors and businesses need powerful local marketing to reach the right customers. With Google Local Service Ads, you can take your online marketing to the next level. Utilizing Google Local Service Ads (LSA) for your HVAC business can help you get maximum exposure, leading to more leads and better customer service.
Our hvac marketing agency has the knowledge, experience and skills to help you set up and manage your Google Local Service Ads. We understand the nuances of LSA and how to make sure your ad campaigns are tailored to your audience, budget and goals. From setting up your campaign to optimizing it over time, you'll be able to trust us to guide you along the way.
Don't wait any longer. Contact us today and get started with your Google Local Service Ads for your HVAC business. Reach more of the right customers, get more leads, and improve customer service – all thanks to Google Local Service Ads!