Rank Higher on Google Maps Local 3-Pack
When it comes to local SEO, there is no question that Google Maps is the king of search listings. In fact, if you are a local business owner or someone who runs a service-based business (such as an attorney), then your goal should be to rank in the top 3 organic results on Google Maps.
Google Maps is the most used maps service, and when people are searching for local businesses or places to visit, they often turn to Google Maps. If you want your business or place of interest on the map itself, then it's important that you know how to get there. This article will show you 6 ways to help you rank higher on Google maps so that your customers can find your business easily.
What is the Google Local 3-Pack?
If you type the keyword "plumbers" into Google right now, you will be able to find a list of plumbers in your area. These listings will appear at the top of the page and are accompanied by a map for easy navigation. The Local-3-Pack on Google will give you the best results for your search based on your location, so that you can find who is closest to you. It's like having a plumber in every town!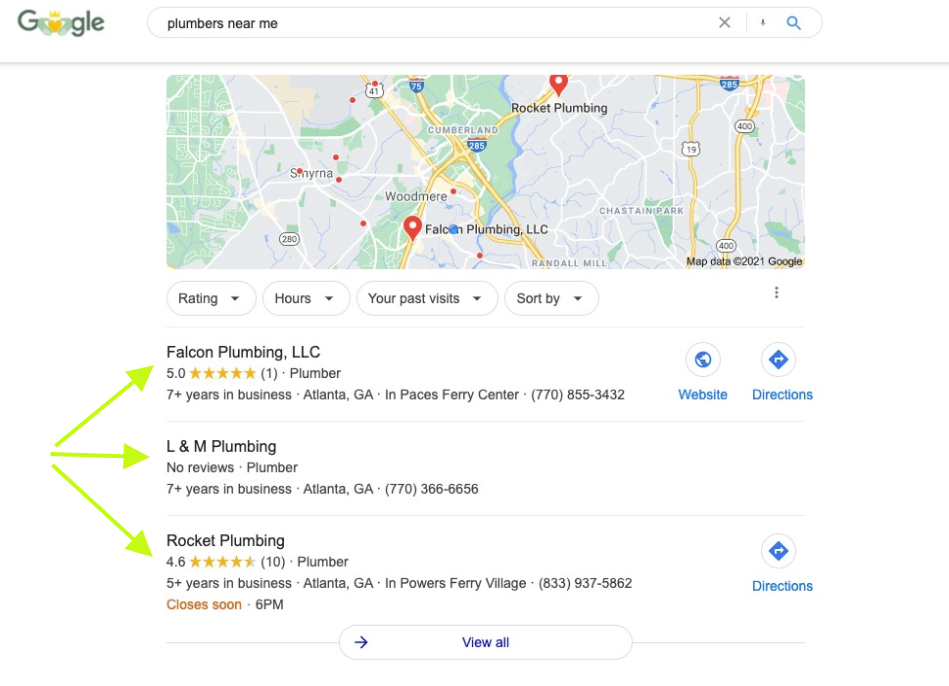 When does the Google Local 3 Pack Show Up in Search Results?
The Local 3-Pack is a direct connection with Google for those who are looking for local information. It shows up any time Google determines a search has 'local intent'.
Google search engine users have the ability to find what they are looking for on a page of results. The top three results in each group are displayed first so that those with the most relevance will be searched and found more quickly. The Google algorithm is designed to take into account how often people click on different links when searching for something specific, as well as which sites link back and forth between one another highly ranked by Google's algorithm in regards to relevancy.
How Does Google Determine local intent?
Google hasn't published an actual list but generally speaking, the following types of searches have local intent.
Search phrases that contain a geographic reference such as a city name or zip code (like "electricians in Atlanta")
Searches for services that are typically fulfilled by a local business (like "restaurants" or "beauty salons")
Search terms with the phrase "near me" which can be used to find anything from restaurants and gas stations to dry cleaners and dentists
How do I get my listing to show up in the Google Local 3-Pack?
If you are a local business, one of your main goals is to get your listing to show up on the first page of Google's Local 3-Pack. This will ensure that people who search for businesses in your area will find you quickly and easily. Many small business owners struggle with this task as it doesn't seem like an easy process. The truth is that there aren't any trickery or blackhat tactics involved; the key is knowing what Google wants and providing it for them.
Create and Claim Your Google My Business Profile
Setting up a Google My Business account and boosting your presence in the Google Local 3-Pack will improve how many people know about your business. To set this up, make sure to list all of the information, including hours, phone number, website address, and more so that when you search for local businesses on Google Maps or other areas of their platform it should show up. The power of having your business listed on popular platforms like this can't be emphasized enough!
Optimize Your GMB Profile
Just claiming your profile won't typically be enough to make your business start appearing in the 3-Pack. Optimizing your business information is the key to appearing in the 3-Pack. It's important that you provide complete information on your profile and optimize it as much as possible so you can get more exposure. Don't forget to enter a unique description using keywords, keep things consistent with hours, address, and a local phone number too. If you need help on optimizing your GMB listing, be sure to check out our Google My Business management services. We can help put you on the map!
Upload photos and videos
Uploading photos and videos to your profile will instantly increase your success. People who upload photos and videos to their profile find they are more likely to show up on GMB. In fact, it's been proven that businesses with photos on their listings receive 42% more requests for driving directions on Google Maps and 35% more click-throughs to their websites than businesses without photos, according to the folks at Google. Google recommends adding a square-sized logo on GMB listings. You should also use other types of digital assets like cover photo, interior photos, exterior photos, and photos of your goods and services. Consider creating a virtual tour to enhance your brand's visibility.
Add Schema Markup to You Website
Google is the go-to for everything. And, with so much information on the internet, it can be difficult to find out all of the available information about businesses. Local Business schema is a great way to tell Google all of your business's important information and have that data easily accessible in search results. The Local Business Schema allows you to input hours, departments, reviews, and more details about your business onto your website. By doing this not only will potential customers be able to quickly see what kind of store they are searching for but also help them decide if it's worth their time or not!
Encourage Reviews on Your GMB Profile
Reviews on Google provide an opportunity for your customers to leave feedback about their experience with your business. Your business reviews will show up next to your listing in Maps and Search, which can help distinguish you from other businesses. You can request that customers review your business through a short URL that is specific to the company.
Publish Google posts weekly
You can create updates to your business for announcements, offers, events, and products on Google Business profile via Google posts. These show up at the bottom of your page in the 'Updates' section. When you post regularly on your Google Business Profile, it can increase the number of actions taken by consumers who find your profile. It also sends positive ranking signals to Google in the same way that adding photos does, and consumers have higher intent on search engines versus other posting platforms so they are more likely to engage with these posts!
Conclusion
The 3-pack can sometimes feel like an impossible feat because you're up against a lot of competition. Sometimes, simply publishing and optimizing your Google My Business page isn't enough – this means you'll need additional marketing strategies.
Local SEO is the art of ranking well on Google for local businesses that are looking to take over their competitors. Local SEO works hand-in-hand with Organic SEO. You will get the best results by having a website that ranks well, as this will help you rank higher in search engine results pages and therefore get more customers in your shop!