Google Local Service Ads for lawyers (LSAs) have enabled law firms to rank at the very top of search engine results pages — even above pay-per-click ads and the Google My Business three-pack. This has increased the number and quality of their leads. Local service ads for lawyers feature a green checkmark, showing that the firm is "Google Screened."
Local search ads for lawyers have been around for almost a year in San Diego and Houston, but they are now available nationwide. Some marketing agencies are over-hyping these ads as a panacea for failing marketing strategies.
It's important to understand the basics of LSAs before you spend your marketing budget on this new marketing method. Below, we'll explain the essentials.
What Are Local Service Ads?
When searching for home service contractors (such as plumbers and electricians) in the last few years, search engine results pages usually display a box that reads "Google Guaranteed" service providers.
If you clicked on an ad for a contractor and scheduled an appointment, it was probably an effortless process that helped you find the right company. Google offers local search ads for lawyers that provide a similar experience for legal consumers.
Following are the main components of a legal LSA:
Google displays these ads above organic results, pay-per-click ads, and Google My Business listings
Visitors are taken to a Google landing page, not to your website. Once consumers land on the page, they can either call your law firm via their tracking phone number or send you a message.
Pay-per-Lead advertising is only triggered by someone converting to a lead. Clicks don't result in a charge.
In most communities, local service ads are relatively new, so early adopters benefit from a powerful advantage over their competitors. Up until now, local SEO for lawyers and PPC were the most sought out way to reach local customers.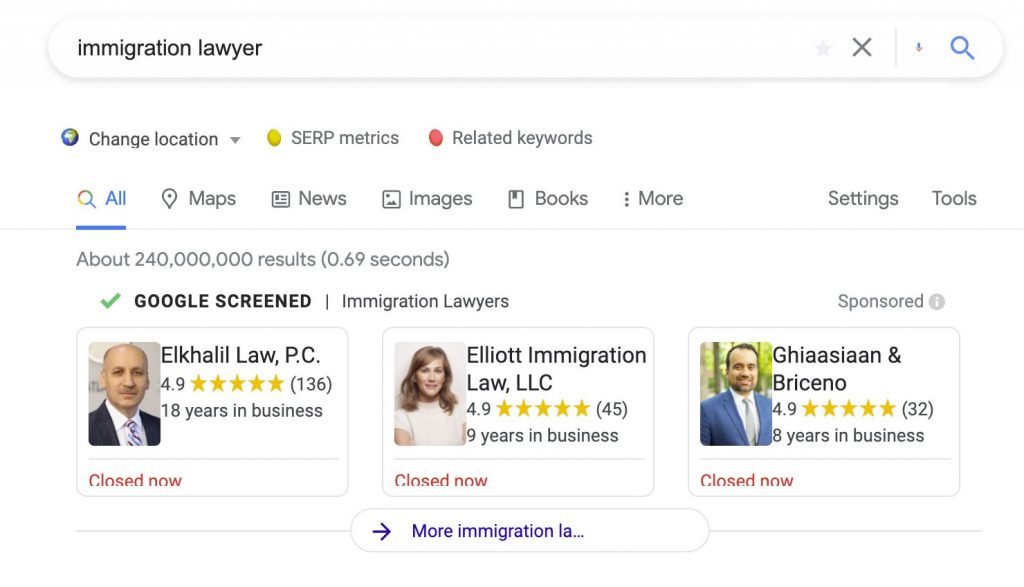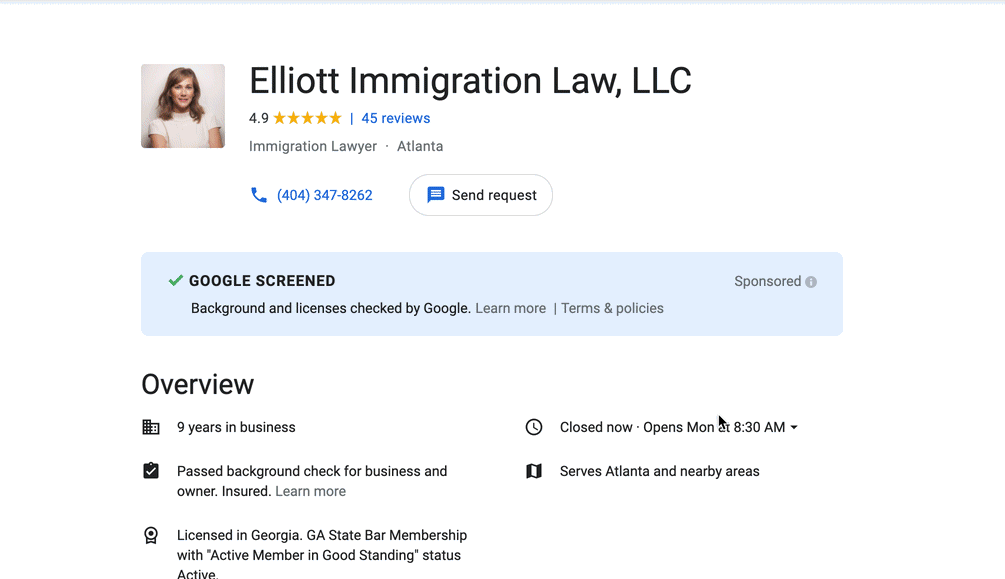 Local service ads are a relatively new way to advertise locally, so early adopters have an advantage.
Lawyers in these practice areas can now buy local service ads that target particular zip codes and communities. These practice areas are:
Bankruptcy
Contract law
Criminal defense
Disability law
DUI
Estate planning
Business law
Family law
Real estate
Immigration law
Litigation
Intellectual property
Labor law
Malpractice
Personal injury law
Tax law
Traffic law
Different practice groups include different subsections. For example, DUI law includes subsections like DUI accident and injury claims. However, personal injury law encompasses many different areas.
A marketing professional can help you identify the best opportunities and maximize your marketing budget if you're not sure which practice areas your law firm should emphasize.
Getting "Google Screened"
Local service ads for lawyers are marked with a green checkmark, indicating that they have been "screened by Google."
The Google Screened program is the professional's version of the Google Guarantee, which gives consumers more confidence when shopping for a service provider. However, unlike the Google Guarantee, the Google Screened program does not provide a full refund for unhappy customers or clients.
Google requires several steps before you can run local service ads on your law firm's website.
A basic background check of the business and the owner is required.
Ensure that you're licensed to practice law.
Provide a copy of your legal malpractice insurance policy.
Also, you need at least one Google My Business review and an average rating of at least three stars.
How Will My Local Service Ads Look?
Search engine users need information on legal services, which is why Google local services ads offer one significant advantage: your headshot. Legal consumers will see your photo, Google Screened badge, how many years your firm has operated, and other information on the search result page.
Although your headshot isn't guaranteed to appear on every LSA, it is more likely you will receive clicks if you include a high-quality portrait.
How Does Google Local Service Ads for Lawyers Rank?
Google considers the following factors to determine how frequently your LSAs are seen by legal consumers.
The time of day, what keywords they used, and other metrics related to a person's search
The rating you have on Google My Business
Your response time to LSA inquiries
The distance between your office and the individual
Your hours of operation
Whether or not Google has received a complaint about your law firm.
You might need to think twice about investing in LSAs if you're not ready to respond instantly to your local service ads and encourage your law firm brand ambassadors to stay up to date with their reviews on Google My Business.
Do Local Service Ads Replace PPC Ads?
Lawyers prefer to pay per lead instead of per click. It seems to be a more effective approach and there is no bidding system to deal with. (LSAs charge a flat rate per lead.) However, we believe that you can improve your rankings in local service ads if they complement PPC marketing rather than replace it.
Although they can spread brand awareness and boost conversions, Google's local service ads are not an instant cure-all to all your digital marketing woes. Today's legal consumers are much more savvy than their predecessors and more likely to research your firm carefully before converting via landing page.
Although your law firm may be included in a three- or two-pack of LSA listings, savvy legal consumers are going to read your reviews, visit your website, and seek information on your firm through social media. You still need a well-designed site that is compelling and accurate.
Seeing your law firm in organic search results and paid advertisements and on social media at the same time will increase the likelihood that the consumer will click the link and reach out to you.