If you're like most tree service business owners out there, you're reading this because you're looking for ways to grow your business and attract more customers…
Below are a few of our top picks for tree service marketing ideas to grow your business:
1. Tree Service Websites – 4 Things That You Must Include
A website is the first impression most prospects will have of you. It reflects your business and shows them who you are and what you can offer them. A key part of attracting new customers is including the right content, at the right time.
Creating a great website that is trustworthy and relatable requires keeping four things in mind. Below are the kinds of things a tree service business website should include:
a. Easy navigation:
Don't make it difficult for your customers. Make your website look clean and customer-friendly. Stand out from the crowd. Show your personality. Be sure, however, to focus on your customers!
b. Optimize Your Service Pages and Blog Posts:
To succeed at building an effective tree service website, you need to have unique pages that cover your core services, such as stump grinding and tree removal. These reasons include:
Provide descriptions of your services that identify and describe exactly what you offer in the area you provide them, so that the search engines can find your information and deliver it to the right potential clients.
Establish a strong first impression that will make prospects want to call you, not your competition, by demonstrating how you can help them.
Also let them know if you offer other tree care services. State your competitive edge clearly!
Be sure to blog continually. It would be best if your blog pages addressed questions such as "How Can I Tell If a Tree is Dying?" or "How Often Should I Trim My Crepe Myrtle Trees?".
Writing blogs (short, useful insights that your customers will find helpful) lets search engines know you are constantly creating fresh, relevant content. In other words, you not only answer the right questions and lead prospects to your services, but also improve your search engine rankings.
c. Genuine Testimonials and Examples:
A testimonials/reviews page is a necessity for generating leads, so make sure you have one up to date to demonstrate your skills, work ethic, and how satisfied your clients are.
You can also include photos showing before and after. You should let your potential clients know what to expect from you.
d. Make sure you mention the local areas you cover:
For your local search results to get the best visibility, your website should clearly indicate what cities (or counties) you serve.
As well as responsive design that works well on mobile devices and tablets, make sure to include phone numbers that can be clicked to call and a lead form that will allow customers to contact you.
2. Make Sure Your Tree Service Marketing Agency is Doing its Job
Businesses that want to stay competitive online need to track and analyze their data regularly. This will allow them to see which marketing campaigns are working and which ones aren't, what is driving traffic to their website, and how potential customers are reacting to their brand.
Online marketing is a form of advertising that has the potential to drive tons of traffic to your website. It can be difficult to measure the impact of online marketing, but if you are using Google Analytics, you can get a good idea of how your efforts are affecting your bottom line.
The marketing agency you've hired should give you detailed reports or statistics (quarterly, at a minimum) about where your leads come from, how much each new customer costs, and the performance of your website. Those are things you JUST DO NOT want to miss!
The marketing company you hire should be able to determine key metrics so you can track and record the information as visitors use your site so you will know what is working and what isn't. You'll be able to make intelligent adjustments to your site's performance if it isn't generating enough leads.
If you do not have any data on how your site is performing, it is very difficult to make any improvements.
Please give us a call if your marketing team isn't providing results. We'll get you the results you want.
3. The Best Off-Site Tree Service Marketing Strategies
It might be a surprise to learn that search engines can connect interested customers to your tree service, not just from your website but from all over the web.
The more places online that your company can be found by a prospective client looking for your products or services, the better. Some directories are subscription-based, while others are free, whereas some directories were created to authenticate businesses as members of their local communities.
The services Angi (formerly Angie's List) and Home Advisor are popular with your customers for finding local, credible businesses in their area and deciding which to choose based on customer reviews.
Building quality inbound links is one of the most common ways to improve rankings in Google's search engine results pages (SERPs). One tactic that has proven reliable for building links is through online directories.
What are inbound links exactly?
Inbound linking involves linking to your website from another website. An excellent example is your member profile on the Tree Care Industry Association or the local chamber of commerce in your city. Search engines like Google and Bing will rank your site higher if there are more sites that link back to it.
If you're not yet a member of any tree care organizations, you should be. Engaging in this type of organization will place your company at the top of search engine results when customers look for tree care services, and prospective clients can locate your contact information quickly and easily.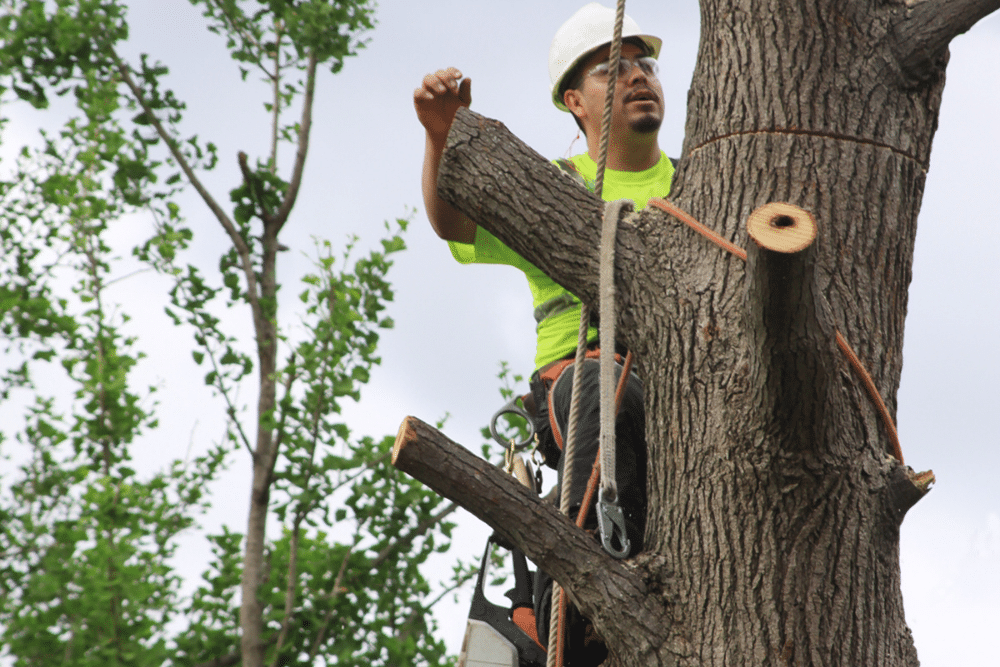 4. Offer A Great Rewards Program
Marketing is generally viewed as an initiative or effort driven exclusively by a brand or its employees within these organizations. Many marketers have not considered their clients as integral members of the marketing team. Your customers will spread the word about your business if they experience excellent service. Therefore, don't stop rewarding your customers!
When someone calls you and says a customer referred them to you, reward them! Give them something worthwhile in return and they will send you more leads.
For referring a friend that ends up being a $400+ job, you can reward a former customer with a personalized thank you note and a $20 VISA gift card. Don't offer them any credit for their next service. Your customers will appreciate extra cash they can use however they like!
5. The Power of Social Media – If Used Correctly
The business of tree service can be lucrative if the company has strong marketing strategies. The best way to generate leads for a tree service business is through social media platforms. Sponsored or promoted posts are a great way to get noticed by potential customers.
Today, it's easier than ever to promote a business on Facebook. Pages are created for every type of business and the social media giant has taken notice, ranking them higher in search results. This has led to more traffic from Facebook which can translate into more customers for any given company. By investing in a social media presence for your business, you can generate brand awareness and promote your company's services.
Need Help Promoting Your Tree Service Business?
Effective tree service marketing or landscape marketing creatively today can be as challenging as climbing Mount Everest. Here is where full-service marketing companies come in.
We at Newman Web Solutions Agency have a primary goal of educating and empowering you, the business owner, so that we can help you grow your tree service business.
Getting leads and traffic to your website is our mission! We have designed websites for dozens of service-related businesses like yours throughout the country. Don't let your competitors steal your leads…contact us today for a free strategy session to discuss your business ideas.