It's easy to get overwhelmed by keyphrases when optimizing a site, that's why it's important to start with a focus keyphrase. There are contradicting theories about which to prioritize and avoid when working with your website's features, but there's one way of creating SEO that many sites have been following for quite some time.
By creating an SEO focus keyphrase for each page of content on your site, you can make sure every page has a purpose behind it and is helping you achieve the most potential from any specific set of keywords/phrases you hope to capture as part of your online marketing campaign.
Building SEO throughout your site is an arduous task and there are many SEO mistakes that you can make along the way. At the same time, failing to target any keyphrases entirely could seriously jeopardize how traffic flows to your website because people don't know what it's about and why they should come back or even how to find your website.
I'm going to show you how to achieve keyword research with the RankMath SEO plugin, thereby saving a lot of time, effort, and stress on your part. I will go over why this is such an important step in the process of writing quality content.
What is a Focus Keyphrase?
A focus keyphrase is a specific word or phrase that you use to help your SEO content rank higher in search engine results pages (SERPs). When you create high-quality, relevant content that includes a focus keyword, Google will associate your website with the keyword and show your content higher in the results.
When creating SEO content, it is important to target a specific focus keyphrase. This will help to improve the ranking of your site and avoid any duplication of keywords. A focus keyphrase can be anything that you want your content to be focused on, such as "home improvement tips" or "pets 101." By targeting a specific focus keyphrase, you will ensure that your site focuses on a specific topic and avoids any random keyword placement.
When two or more web pages are optimized for the same keyword, the pages compete for links, authority, and search engine rankings. This is often referred to as keyword cannibalism. It can have a negative impact on your SEO content creation.
Focus Keyphrases: How To Use Them?
When it comes to online marketing, one of the most important aspects is to focus on key phrases that your target audience is likely to search for. This is why incorporating a focus keyword into website content can be so beneficial.
For example, let's take a look at a business that specializes in home remodeling. By incorporating the term "remodeling Atlanta" into their website content, they are ensuring that their target audience will be searching for related information. In addition, this will help them rank higher in search engine results pages (SERPs).
Imagine the website of this imaginary company as a pyramid. At the top of the pyramid is the home page, which links to subpages for products and services such as kitchen remodeling, bathroom remodeling, flooring services, and cabinet restoration. Subpages link to detailed subcategory pages that provide detailed information about residential and commercial services.
Pages at the top of the pyramid use broad keywords. As you move down the pyramid, the information and the keywords get more specific. The use of long-tail keywords becomes especially important as you go deeper into the site.
A keyword research tool such as Ahrefs, SEMrush, or even SE Ranking can help you choose the right keyword to rank your website for. Research the search volume and difficulty level of the keyword you want to target, and then begin to build content around it once you've identified it.
Homepage keyphrase: Atlanta Remodeling Company
Sub-page keyphrases: Kitchen Remodeling in Atlanta, Bathroom Remodeling in Atlanta, Flooring Services in Atlanta, Cabinet Restoration in Atlanta
Sub-page keyphrases: Commerical Kitchen Remodeling, Residential Kitchen Remodeling, Commercial Bathroom Remodeling, Residential Flooring Services, Commercial Flooring Services, etc.
In the next section, I'll show you how to utilize the RankMath WordPress SEO Plugin for researching topics and analyzing their website content for inclusion of primary and secondary keywords. The tool is easy-to-use and integrates seamlessly into the backend of your WordPress Site.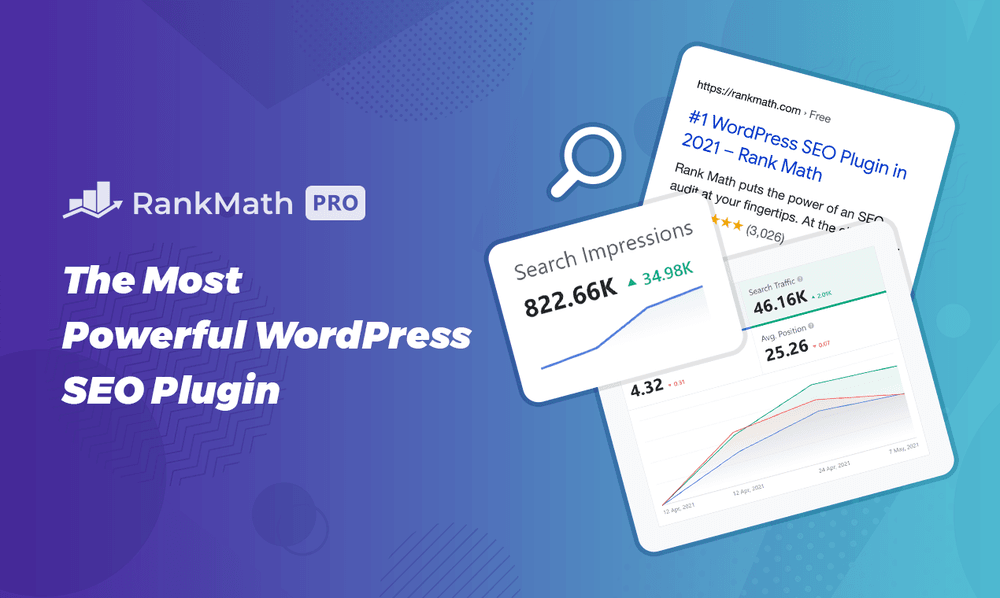 As soon as RankMath is installed, a sidebar will appear on each WordPress page. In addition to search engine optimization analysis, the tool provides backlink analysis, among other features.
Additionally, Google Search Console and Google Analytics data will appear in your WordPress dashboard, and a Pro account will offer more detailed analytics.
Choosing a Focus Keyphrase in RankMath
You should use RankMath to optimize your content for primary and secondary keywords after conducting keyword research and selecting the search terms that are important to your business.
1. Set a Focus Keyphrase
When creating or editing a post, click the "General" tab of the RankMath tool to set a focus keyword. Input your keyword into the focus keyword field. You can use RankMath for more than one keyword. There is a free version of RankMath that allows you to use five keywords, and a pro version that allows you to use unlimited keywords.
2. Find Additional Keyphrases
With each keystroke, the field automatically completes. In spite of the fact that RankMath isn't dedicated to keyword research, you can review some of Google's automatic keyword suggestions and pick relevant ones to add as additional keyphrases. Add any of the autosuggest keywords to your list of keywords you want to rank for by clicking on them.
In RankMath, turn on Content AI for more advanced suggestions. More about this later.
3. Review Google Trends Based on Focus Keyphrases
Ranking Math PRO integrates with Google Trends. Simply click on the Google Trends icon above the focus keyword box to use it. An overview graph will appear showing the relative popularity of the keywords. Search terms indexed to 100 are displayed relative to the most popular. You can filter results based on a specific area or time period.
You should also consider keyword difficulty when picking your focus keywords, but Google Trends can serve as an initial guide. Eliminate any irrelevant terms.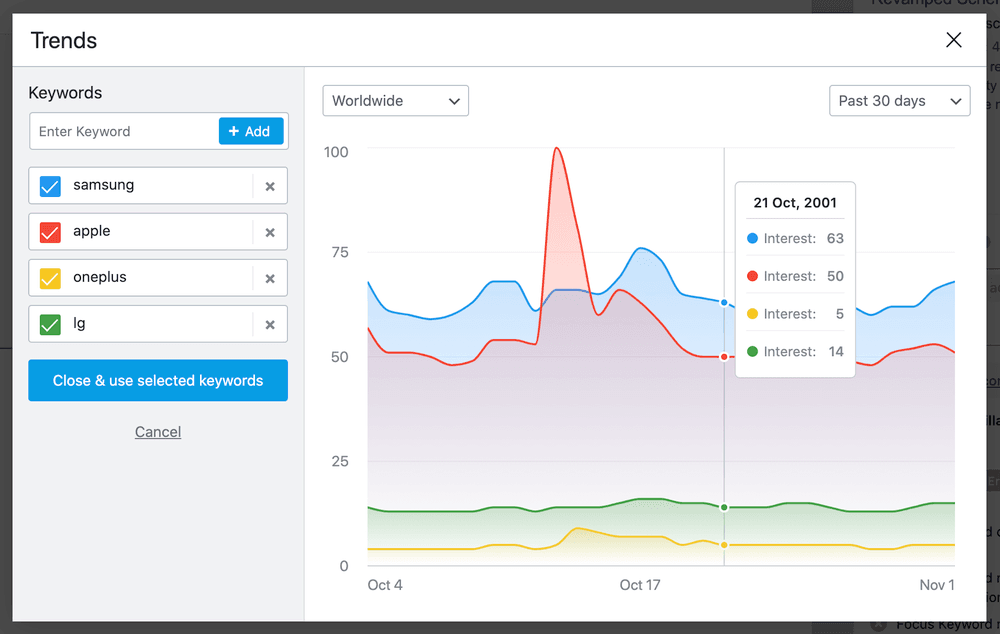 4. Decide Which Keyphrases Are Most Important
The first keyword in the list of focus keywords is used as the primary keyphrase for optimization, which means it pays more attention to this word for on-page SEO. List your keywords in descending order of importance.
If you own RankMath PRO, you can rearrange the keywords by dragging, but those using the free version will need to remove the keywords and re-add them in order of importance.
5. Utilize RankMath to Optimize Your Content
The RankMath system runs a series of tests for SEO and readability, using basic color coding (red, yellow, and green) to indicate which tests have been passed and which need to be revised. It looks at places where the focus keywords appear, such as the SEO title, meta description, URL, headings, and internal and external links, and identifies orphaned pages as well as the number of keywords you've used to compare to the content length.
In addition, the tool checks to see if you've used the focus keyword before on the rest of your site to prevent keyword cannibalization.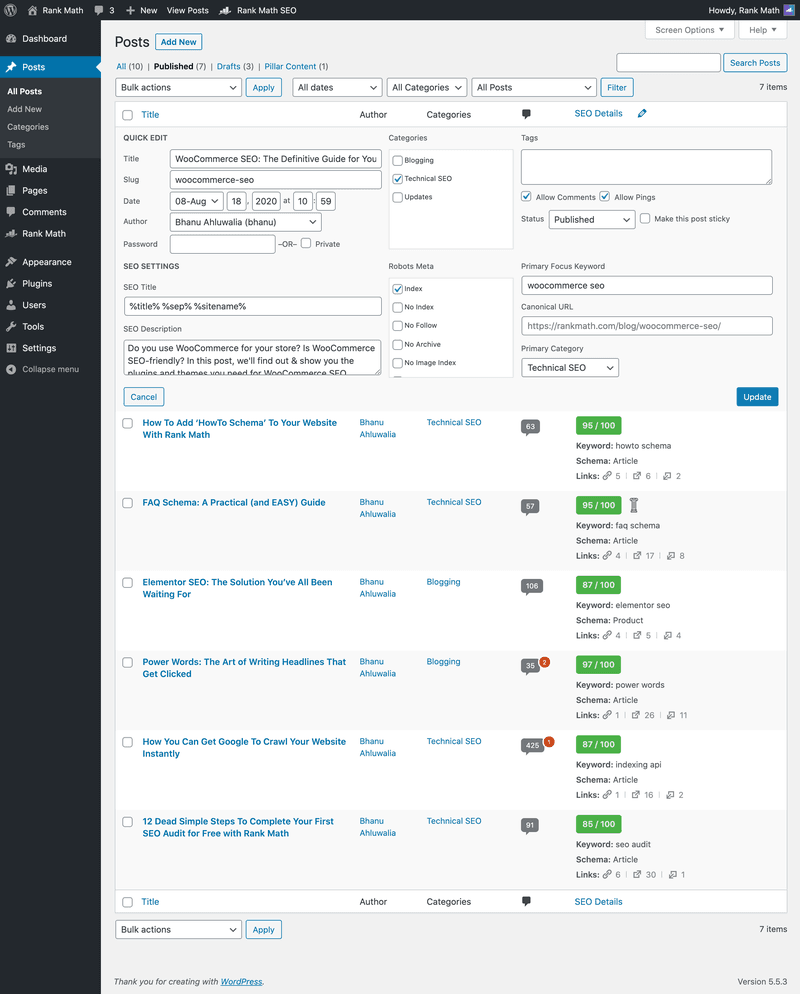 6. Turn on Content AI in RankMath
Content AI is a new feature of RankMath that compares how you're using the focus keyword with how the words are used in top search results. Using artificial intelligence technology, Content AI analyzes other ranking pages and recommends ways to better compete for your focus keyword. Content AI provides feedback on:
Text density, links, headings, and media types.
Where to place specific keywords for the best results (body content, headings, SEO title, etc.)
Frequently asked questions that you can answer with dedicated headings or in an FAQ section.
For access to the features of Content AI, you need to enable it from the WordPress admin area.
From RankMath, select "Dashboard" and then "Modules". Turn on Content AI by clicking the toggle.
As you edit a page, you'll now see the Content AI icon in the RankMath interface, above the keyword input field. It costs 1 credit per keyword. Although you can still test it even with the free version, the number of credits you have depends on your membership with RankMath.
Stay One Step Ahead Of The Competition
Researching keywords using a focus keyphrase is just one part of a solid SEO strategy. Join forces with Newman Web Solutions Agency for a comprehensive SEO campaign that includes a site audit, link building, and more.