GoHighLevel has helped us manage the complicated process of marketing lead campaigns for our clients. The monthly costs were adding up and it was extremely frustrating when something went wrong, but that all changed with GoHighLevel! We can now spend more time doing what we love: providing quality service to our customers- without having to worry about how much work is going into running a complex campaign.
Before using this software, I would dread waking up in the morning because there's no telling what could go wrong at any given moment during my day if things did not run smoothly from start to finish on one project or another. With so many different systems involved across multiple platforms, making sure everything runs seamlessly is easier said than done – which means less free time.
GoHighLevel has been life-changing for us agency owners. It's allowed our teams to save time and money that can be reallocated back into the business, which is really helpful when you have a small team like ours. Our clients love it too because they don't need to follow different platforms for their leads/sales; this makes communication more convenient with less confusion on both sides of the relationship (we always know what we're talking about!). And transparency in relationships? That's huge! With GoHigher Level we've seen a big jump in accountability from clients, who now want to keep up with all of their commitments thanks to how things are communicated through one channel–they just made some changes so everything looks nice as well 😉
It's really hard to imagine what it would be like without the amazing team at GoHighLevel. The community is also filled with people who are eager and willing to make things happen, which we feel right at home in as well!
We are excited to continue our partnership with GoHighLevel and the leadership team over there. We have had nothing but positive things come out of the partnership and are looking forward to growing our relationship in the future.
What Is GoHighLevel?
GoHighLevel is the world's leading all-in-one marketing and sales platform. It was designed by marketers, for marketers – that means it's effective at meeting your needs! With thousands of agencies worldwide using GoHighLevel to get ahead in their industry, you'll be leveraging a tool proven to deliver results time and again.
You may not think of marketing as a sexy profession, but with GoHighLevel's customizable dashboard and cutting-edge technology, it becomes the most innovative industry on earth. With this resourceful platform's automation features that let you manage every aspect of your business without lifting a finger (literally), marketers are able to work smarter rather than harder for an optimized experience across channels such as Facebook Ads optimization or email drip campaigns.
Say hello to your brand new best friend. The software that consolidates all the features of those other platforms into one, saving you time and money while helping grow your business faster than ever before! You'll get landing pages, sales funnels, CRM (customer relationship management), email marketing campaigns, SMS marketing for lead generation or customer retention – plus reputation management to protect what's yours on social media so they know who really runs things where it counts: in this digital economy.
GoHighLevel is the ultimate commerce platform for a stress-free agency. It will save you money and time, while also helping to make more sales without all of that annoying juggling between systems. The software is actually called HighLevel but is often referred to as GoHighLevel or GHL.
GoHighLevel Benefits
GHL Saves You Money
HighLevel is a one-stop-shop for all your business needs. You'll be saving money and time simultaneously with their revolutionary platform that consolidates multiple tools into one and charges less for it while doing an even better job. The key to running an efficient operation is knowing what you have coming in the door at all times – like how many clients or prospects, there are in different stages that might be able to do business with you right this minute! No more slipping through cracks; it's time to automate your process so no one slips out of sight anymore.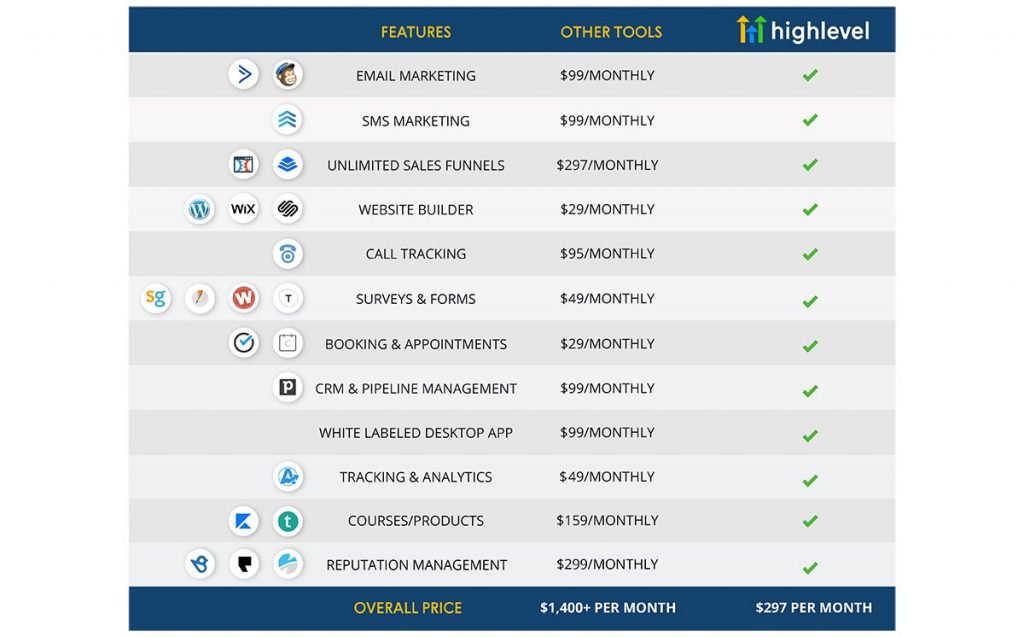 GHL Saves You Time
Marketing automation will be the absolute game-changer for your business or agency. If you do something more than once, create an SOP and then automate it as much as possible. You'll save hours of time each week because of this! This gives you a chance to spend valuable time on revenue-generating activities that are important for growth and sustainability. Consider automating the following:
Automate your lead nurturing sequences such as texts, emails, and messages in order to increase the number of appointments.
Automating your testimonial and review generation process which will help increase the trust in customer's eyes.
Imagine the freedom you'll have when your signup process is automated! Instead of wasting time on back-and-forth email communication with users, they just fill out all their information and get started in one automatic step.
Don't forget your appointments! Set up an appointment reminder sequence using SMS texts, emails, and voicemails reminding them of their strategy session to reduce the no-show rate.
Automate your sales processes – the sales pipeline is a crucial component of any effective business. You know where your leads are and can account for them accordingly.
With Snapshots, you can duplicate your client campaigns with just a few clicks and save hours. Duplicate landing pages, sales pipelines, calendars items – anything in the campaign that is saved as an independent entity will be duplicated to another sub-account when activated!
GoHighLevel Features
Reputation & Review Management
Campaigns with Automation (lead nurturing, onboarding, reminders etc.)
SMS Messaging*
Live Chat Widget for website
Google My Business Chat ability
Appointment scheduling & Calendar Syncing with Google
Landing Page Builder
Website Builder
SMS & Email Templates for marketing*
Call Tracking*
Voicemail marketing*
Inbound Call Routing*
Outbound Softphone Calls*
Twilio Integrations – Phone numbers for users
Membership Sites
Funnel Builder
Stripe Integration – One-time Charge and Subscriptions
Survey Builders & Forms
Workflow Builder
Form Builder
Zapier Integration
Facebook Ads and Messenger Integration
Quickbooks Integration
Zoom Integration
Call Recording
CRM & Pipeline Management
API Access & Much More!
*For voice and SMS call you need to integrate and connect to Twilio. For sending email campaigns you will need to integrate with an SMTP provider like MailGun, Gmail, etc.
HighLevel Pricing
GoHighLevel starts with a 14 day Free Trial.
The Agency Starter Account is a great option if you want to use GoHighLevel for your business only. For $97 per month, it includes everything that the regular account does but will not include HIPAA compliance or White-Label App functionality unless you upgrade.
The Agency Unlimited Account is the ideal account for those who need unlimited sub-accounts and premium features. The monthly cost is $297 and has white labeling capabilities so it looks just like your own software app.