UPDATE 2021 – Check out the new guy on the block – HighLevel
If you landed on this page, chances are your goal is to learn more about ClickFunnels. However, if you're a business owner or digital marketing agency and want to go next level-you'll definitely need to check out our article on HighLevel by clicking the banner below! Clickfunnels is still a great tool however, we found an amazing tool that does the same thing ClickFunnels does plus more. It's practically a complete marketing platform in a box! From funnels, email marketing campaigns to call tracking, and much more – it's everything you need to manage and nurture a business or agency in a single platform. Check it out! We promise you that you will not be disappointed!

If you are still interested in ClickFunnels (also an amazing tool) continue on to find out more.
If you are a local or small business owner who also runs your company online, then you have more than likely heard of ClickFunnels. If not, you may want to check it out. Read below to find out what CF can do for you.
Exactly what is ClickFunnels?
ClickFunnels enables people to grow their businesses through Sales Funnels. It permits you the ability to get all the various funnel types such as the order forms, subscription websites, website hosting and shopping carts all in one tool. With Clickfunnels, you no longer need to guess how to integrate all of the available functions on a site. With ClickFunnels, you can turn your concepts into truth.
Remarkable Facts about ClickFunnels
ClickFunnels is an automated tool that provides you with all the resources to your market. With the assistance of ClickFunnels, you can link various web processes that make things less complicated, allowing your website visitors to enjoy going to your site. Devoid of any inconvenience and confusions, ClickFunnels will guide your lead's way. With that being said, there is a higher capacity for sales conversion which is what an online business needs to survive.
Company Result
A typical problem among many online businesses is the engagement that their website is regularly receiving. Low website engagement boils down to less income for any business. Getting potential customers and consumers to keep coming back to a site is not a simple task.
Using Clickfunnels in conjunction with a well-designed website will dramatically increase engagement and drive more traffic to your website effectively. Clickfunnels can help you quickly sell your products and services online with ease.
Whether you are a blogger, consultant, online business or service-based company, ClickFunnels is something that can genuinely benefit your business.
Creating Your ClickFunnel
1. Choose Your Sales Funnel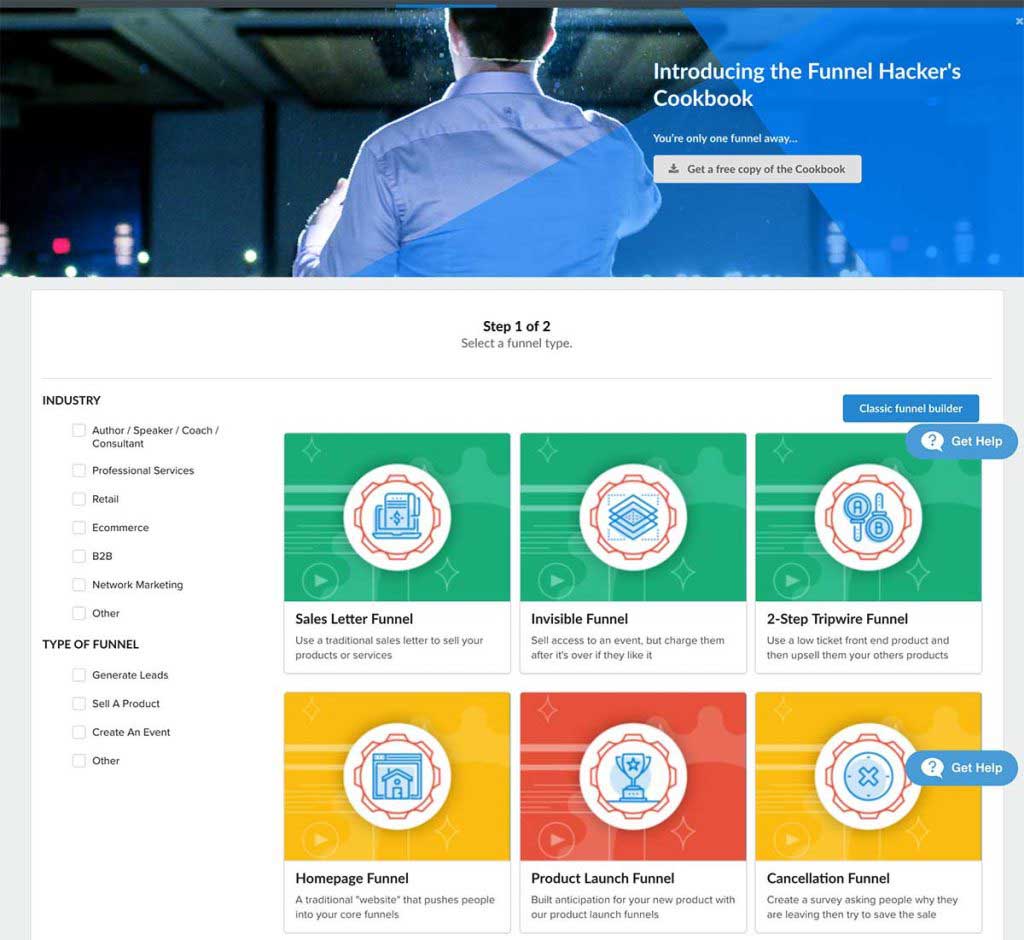 Choose a template that is pre-designed to offer your type of product or service. It is an easy way to drive traffic to your website that will bring you more sales.
Sales Funnel examples are the following; Homepage, Funnel, Product Launch Funnel, 2 Step Tripwire Funnel, Squeeze Page Funnel, Reverse Capture Page Funnel, Lead Magnet Funnel, Bridge Funnel, Survey Funnel, Application Funnel and more.
2. Design Your Funnel Page
Make sure it is something that can grab your visitor's attention. We recommend a clean professional look that does not distract your visitor but makes it very clear and to the point what your offer is.
3. Split Test Your Funnel
Split testing is a marketer's best friend when it comes to perfecting the sales funnel. Why? Because it actually allows you the ability to make the necessary changes for a sales funnel to become a converting machine.
In ClickFunnels you can easily create a variation for any funnel step right away. In order to create a variation for a funnel step you will need to click "create variation" button. After you are done creating the Split-Test variation, you will be able to track the stats for both the control version and the variation itself.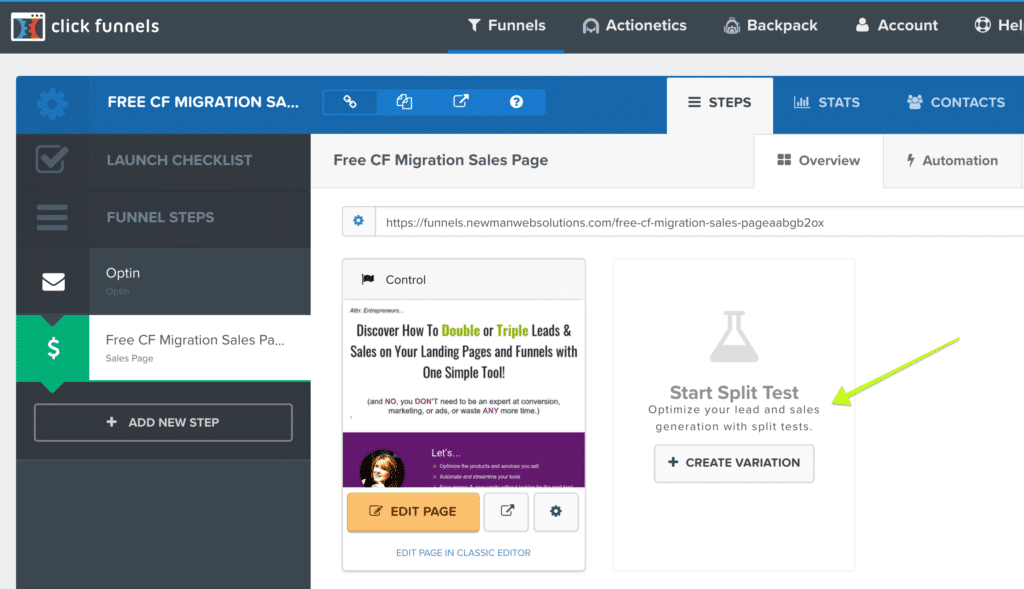 ADVANTAGES of Using ClickFunnels
Ability to set up funnel pages quickly. A complete funnel workflow is really easy to create using ClickFunnels. It's a huge time-saver to consider.
ClickFunnels is extremely flexible allowing hassle-free edits and modifications.
With ClickFunnels, you can integrate major e-mail and payment systems quicker. CF has autoresponders (emails) features which you can do lead gathering.
Tons of professionally designed templates are available.
You have a way to do A/B testing for every single page that's a part of your funnel.
Free training and ongoing weekly webinars being offered.
New features are always being added.
ClickFunnels has an awesome affiliate program with free training. It allows you to recruit, manage, and pay affiliates.
ClickFunnels has free-trials.
SSL Certified and Protected
You can leverage multiple domains with ClickFunnels.
Automated webinars, membership features, payment gateways & much more
You can create membership sites with Clickfunnels. After your leads signup, they have access to exclusive membership areas that you have created.
Clickfunnels has integrations with Stripe and Paypal so you can accept payments for your products, services, or membership sites for sales funnel.
Analytics to review campaigns, funnel performance, conversions, sales, and A/B testing results.
DISADVANTAGES of Using ClickFunnels
Let us now have a look at a couple of the downsides of using ClickFunnels.
ClickFunnels is pricier than other solutions. The cheapest plan is $97 a month. On this plan, you get access to all the funnel creation tools, but you are limited to creating 20 funnels, 100 pages, and 20,000 visitors. You also don't get access to Actionetics, their built-in email service provider and Backpack, which allows you to create your own affiliate program.To get access to that, you'll need to go with the Etison Suite plan. It includes everything, plus you get unlimited funnels, pages, and visitors. However, this will run you $297 a month. However, you can choose a yearly plan and get a discount which is equivalent to 2 months free.(ClickFunnels does make it easy for you to demo their service with their 14-day free trial. It's not limited in any way which lets you give the software a full test before you fully commit.
Slight learning curve – The extent of what ClickFunnels can do is pretty huge, and can definitely be intimidating to some folks. ClickFunnels has invested much time in the onboarding process to help ease users into the software. The interface is pretty well designed and once you've built a few funnels, the entire process does get easier.
Who Could Gain From Using Click Funnels?
Online Marketers
Businesses and Entrepreneurs
Affiliate Marketers
Web Designers
Anyone wanting to grow their company
Is ClickFunnels Worth the Money?
Heck yeah! In my opinion, ClickFunnels is worth every penny. It is such a small investment when you consider the time saved in speeding up the process and overall profit made.
Thanks to ClickFunnels we can build sales funnels for anyone regardless of what kind of website they have. We can even create sales funnels and landing pages for those who don't even have a website.
Hands down, ClickFunnels is the very best choice you can ever make for your site and your business. Sign up now for a FREE 14-day trial and find out why so so many others out there now use ClickFunnels.