In order to be successful in the pool building industry, you must first understand the basics of pool builder marketing tips. The right marketing strategy can attract new customers and increase brand awareness. So here are some important things to consider to help you get started.
Company Website
Content is Key
Compelling Calls To Action
Search Engine Optimization
Social Media Marketing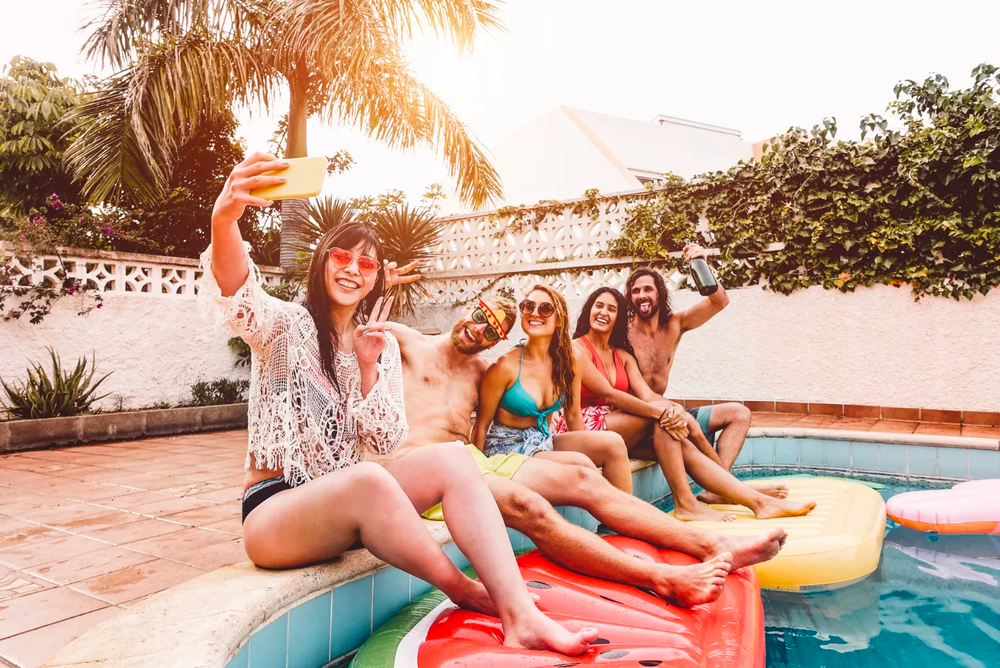 Pool Builder Marketing Tips: How to Create a Company Website?
Creating a website for your pool builder business can be a great way to promote your company and attract new customers. There are a few things you need to consider when creating your website, including the following:
First, you need to decide what type of website you want to create. You can either create a basic website with a few pages that include information about your company. Or you may go all out and create an interactive website that includes features like an online store, blog, and contact form.
Second, you will need to design your website. There are many free and paid web design software programs available on the internet. These will allow you to create a professional-looking website without any coding knowledge. If you want to add some extra pizzazz to your site, however, coding may be necessary.
Third, you will need to set up your website on a web hosting platform. This is where all of the content on your site will live. You can find affordable web hosting services online that will allow you to host your site without any headaches.
Fourth, be sure to populate your website with content! This means writing articles about the pool builder products or services that you offer. This also includes setting up a blog to share your thoughts and experiences with pool building. Another way is creating compelling pool builder marketing campaigns that will attract customers.
Finally, be sure to stay up-to-date with the latest web marketing trends. This will help ensure that you continue to build an engaged and loyal customer base.
Pool Builder Marketing Tips: Content is Key
There are a few things that you can do to market your pool builder business effectively. One of the best ways to do this is through content marketing. This means creating and publishing articles, videos, and other pieces of content that help your target audience understand what you do and why it's important. You can also use social media to reach out to potential customers and promote your products. Additionally, you should keep track of industry trends so that you can capitalize on them when possible. All of these strategies will help you achieve success in the pool builder market.
How to Create Compelling Calls To Action?
Creating compelling calls to action for your pool builder business can be a challenge. However, by following some basic guidelines, you can create effective and persuasive marketing materials that will help you capture new customers.
When creating your CTA, make sure it is clear and concise.
Include a headline that accurately represents what the CTA provides, and use specific language that potential customers will understand. For example, instead of using the phrase "Take The Next Step," try "Get Started Now."
Also, be sure to include a clear call to action (such as "Register For Our Free Consultation"), as well as an accurate time frame (such as "Within 24 Hours").
Finally, make sure your CTAs are placed where potential customers will often see them. Place them on your website's home page and in prominent positions within all of your marketing materials (including ads, flyers, etc.).
Pool Builder Marketing Tips: Take Advantage of SEO
If you're looking to dominate in search engine optimization for pool builder businesses, you'll need to focus on a few key areas.
One of the most important aspects of SEO is creating quality content that potential customers can find on search engines. This means writing articles that are informative and engaging, and making sure your website's content is updated regularly with fresh information.
Another critical factor is getting your website ranked high in Google search results. To do this, you'll need to make sure your site's title tags, meta descriptions, and other elements are optimized for performance.
Finally, it's important to continue building links from high-quality websites in your industry and promote yourself as an expert in your field. By following these tips, you can ensure that your business stands out from the competition and achieves success online.
If you are looking for professional SEO services, you have definitely come to the right place.
Pool Builder Marketing Tips: Dominate in Social Media Marketing
It is no secret that social media marketing is one of the most powerful tools an entrepreneur or business can have in their arsenal. This is especially true for pool builders, as social media allows them to connect with a large audience quickly and easily.
There are a number of ways to dominate in social media marketing for a pool builder:
One approach is to create a strong presence on all major social networks. This means creating profiles on sites like Facebook, Twitter, Google+, and LinkedIn, and using the platforms to share news stories, blog posts, pictures, and videos about your company and products.
Another key factor in dominating social media marketing for pool builders is effective targeting. This means segmenting your target audience based on factors like location, age group, or interests.
Once you have targeted your audience, it's important to create content that appeals to them specifically. This means writing posts that are engaging and interesting, using hashtags and other relevant keywords, and including images that will capture users' attention.
Overall, effective social media marketing for pool builders requires dedication from both the business owner/entrepreneur and their team of professionals who will create the content.
By employing the right strategies, you can ensure that your business is well-represented online and that potential customers can find you easily. Now boost your engagement with our social media marketing services.
Step Up Your Game!
Are you an owner or operator of a pool company? If so, then you know that pool builder marketing is essential to your success. So to increase your chances of success in the pool builder market, make sure to adhere to these simple marketing tips. Or you may simply contact Newman Web Solutions Agency to help market your business.