It's no secret that writing likable social media copy is an effective practice for building your network and generating leads and sales. People use social media to engage and exchange information and ideas in virtual communities and networks. It is also intended to assist people in finding and growing communities of other like-minded individuals and developing relationships, gaining influence, and increasing followers.
However, mere presence on social media isn't enough to gain followers, let alone convert those followers into clients. The trick is to engage your audience effectively, and this is where punchy and likable social media copy comes in.
Social channels are an excellent platform for you to speak directly to your audience, share your content, ideas, passions, and knowledge, and start conversations. As a result, they increase engagement and help you build followers and encourage action, ultimately leading to your end goals.
So, here are eight ways to write a likable social media copy that will surely pave the way for you and your brand to a more engaging and effective social media presence:
1. Create Your Brand Identity and Guidelines
Firstly, you must decide who your brand wants to be on social media. Brand identity is not the same as 'branding' or 'brand image.' Instead, it is how you communicate your service/product, what your brand says about your values, goals, and services.
Your brand identity is its personality. It is far more than a logo or a set of colors, and it is far more than just a cover photo. A brand is how you make your clients feel, and it is established while being consistent in every engagement they have with your brand.
To create a strong brand identity and guidelines for social media copy, you must first decide whether you want to use the same voice on social media platforms on other channels such as websites, local advertising, email marketing, and outdoor advertising. As a result, you will have a more precise standard and will be able to keep consistency on all of your social media copy across all platforms.
2. Set a Goal for Every Post on Social Media
Like with any other type of copywriting or content that you create for your brand, it is crucial to have a clear idea of what your primary goal is for that piece of content. For example, you don't just write a social post for the sake of writing one; you want to make sure that each post you leave on your social media has a goal.
Behind each post, you should know what your primary marketing goal is. Goals such as branding, clicks, shares, conversions, followers, likes, comments, or inbox replies may be appropriate. Whatever the case may be, once you've defined a goal, you can readily assess the success of your social media posts.
3. Write According to the Platform's Appropriate Audience
Every platform has its own set of users. And each audience has different expectations for what they want to see on the platform, which can impact how well your social media postings perform. Therefore, in copywriting, always keep in mind that not every content needs to be posted everywhere, and not all content is appropriate for all social media platforms. In other words, you should not use the copy you wrote for Twitter on LinkedIn and vice versa.
You should also consider how the post's format will work specifically for the platform you're targeting. For example, LinkedIn is primarily a professional community with a corporate tone of voice, making it the ideal place to produce posts that are informative or instructional at their core and teach your audience relevant insights to develop thought leadership.
Of course, you may publish posts that inform or teach on social media platforms like Instagram but consider the kind of audience who will see your post there. With Instagram's laid-back and enjoyable atmosphere, you might consider loosening up your tone of voice, still speaking from a position of expertise but in a more informal and relatable manner.
4. Boost Your Engagement
Many brands mainly post about themselves only on social media, whether to acknowledge their goal, promote their products or services, or announce change initiatives. That is, without question, a wonderful thing to do, but you must consider how your audience will receive your post and what they will gain from it. For example, will they be encouraged to interact and actively engage?
Therefore, you should start with something simpler, such as a product giveaway, a customer appreciation post, or simply writing a post in the form of a question. Again, bringing your brand down to earth is the best approach to connect with your target audience.
5. Ensure Your Visual Aligns with Your Social Media Copy
Ensure that the image/visual you use for your post is aligned with the copy. For example, it is a great idea to include the copy's catchy words and key terms in the graphic. Similarly, the content should reflect the image's tone; if the image is funky, write a witty copy; if the idea is profound, write serious professional copy, keeping the audience in mind.
Don't just publish any visuals with a comprehensive brand statement that doesn't make sense. Working with your creative team to ensure that your messaging remains consistent throughout your article is the best move to make.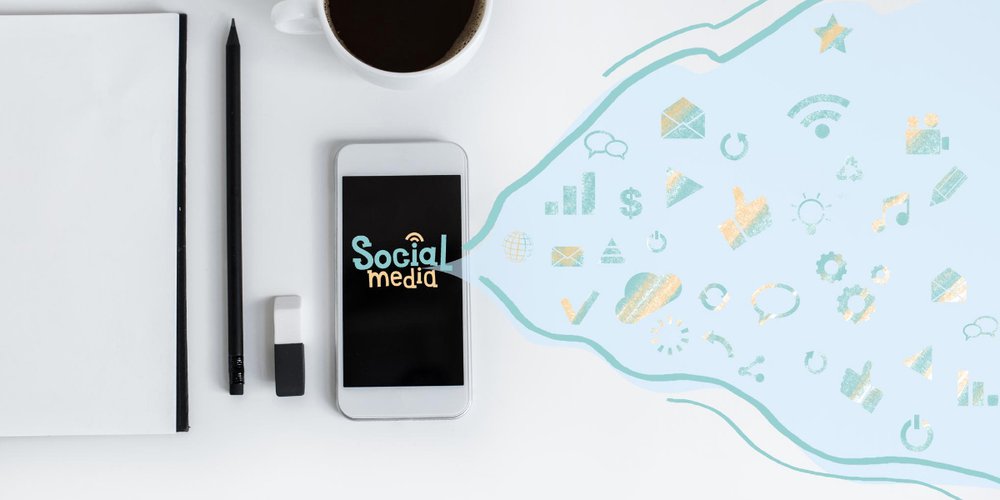 6. Use Hashtags and Emojis Wisely
Emojis? Yes, you read that right! The classic emoji still has a place in the realm of social media copy. Emojis can be a great approach to complement the content if you use an informal, gentle tone of voice. They're also helpful for breaking up larger pieces of content. In social media marketing, it's essential to know that the most popular social media networks support emojis and have exclusive features built around them.
If you're not using hashtags in your copy, start now. Using relevant hashtags is an intelligent strategy to discover your content by those who aren't your followers. If your post is public, anyone searching the hashtag may come upon your post! When deciding which hashtags to use, it is essential to understand what hashtags are trending and what your competitors use to stand out. Always place your hashtags at the end of your copy to avoid distracting from the vital information.
7. Always be Updated on the Latest Trends
Though it may seem obvious, make sure that you or whoever is in charge of your social media copies remains active on the platforms. We don't just mean remaining online when we say this. They should be following various accounts across many platforms, staying up to date on the newest trends, and participating in trending challenges.
Stay up to date on trends to keep your brand at the forefront of your potential clients' minds. Furthermore, this will be your best line of defense against social media flubs. We've all seen them: brands expressing apologies; try not to be one of them.
8. Include a Call-To-Action
A call-to-action in your copy is the best approach to improve user engagement. A call-to-action can take various forms depending on the purpose of the post. For example, inviting your audience to comment or tag their friends is a simple call-to-action that can help increase engagement and exposure on your post.
A call-to-action would be asking your audience to call and book a table by leaving the venue's phone number in the copy. The CTA provides them with all of the information they require and keeps them from looking elsewhere, where they could potentially get lost.
Need Help With Your Social Media Marketing?
Social media marketing is an effective strategy for businesses of all sizes to reach out to prospects and customers. Your clients are already connecting with brands on social media, and if you're not speaking directly to them on sites like Facebook, Twitter, Instagram, and Pinterest, you're missing out!
Great marketing on social media can bring remarkable success to your business, and with the help of Newman Web Solutions Agency, we can make it possible for you. So contact us now and let us generate more leads and boost your business together.