Mobile devices have become an increasingly common way for people to access the Internet, and businesses need to offer a great user experience to visitors, no matter what size screen they are using. HVAC website design should be a high-quality, fully responsive website that looks great on mobile devices.
The increased usage of air conditioners in homes throughout the summer is bound to increase the need for repairs. As a result, you'll need a strong HVAC website design that explains who you are to prospective customers.
Not only should your website make a good first impression, but it should also include the information that will convert visitors into paying customers.
It doesn't matter if you're just getting started in the HVAC business or you've been in business for many years, these seven elements when used as part of your contractor web design, will significantly improve your credibility and increase your appointment rate.
Here are 7 things you should include on your HVAC website Design
You should include these seven elements on your HVAC business website whether it is your first or you are updating an existing one:
The About page.
The Services page.
The Testimonials page.
Appointment-setting feature
Warranty policies and service guarantees
Page with contact information.
Information about emergency services.
The above elements will be discussed in more detail below.
1. The About Page
A basic About page does exactly what it sounds like: it tells prospective customers about you and your company, and how you got started. It can also answer many common questions, such as:
Whether your HVAC business is run by a team of professionals or by one person.
The number of years of experience you have and that of your staff.
The length of time you have been in business.
This is an ideal opportunity to brag a bit about your company by including any certifications, awards and recognition you've received.
A good About page should show potential customers how qualified and trustworthy you are so they feel confident in hiring you to handle all their HVAC needs.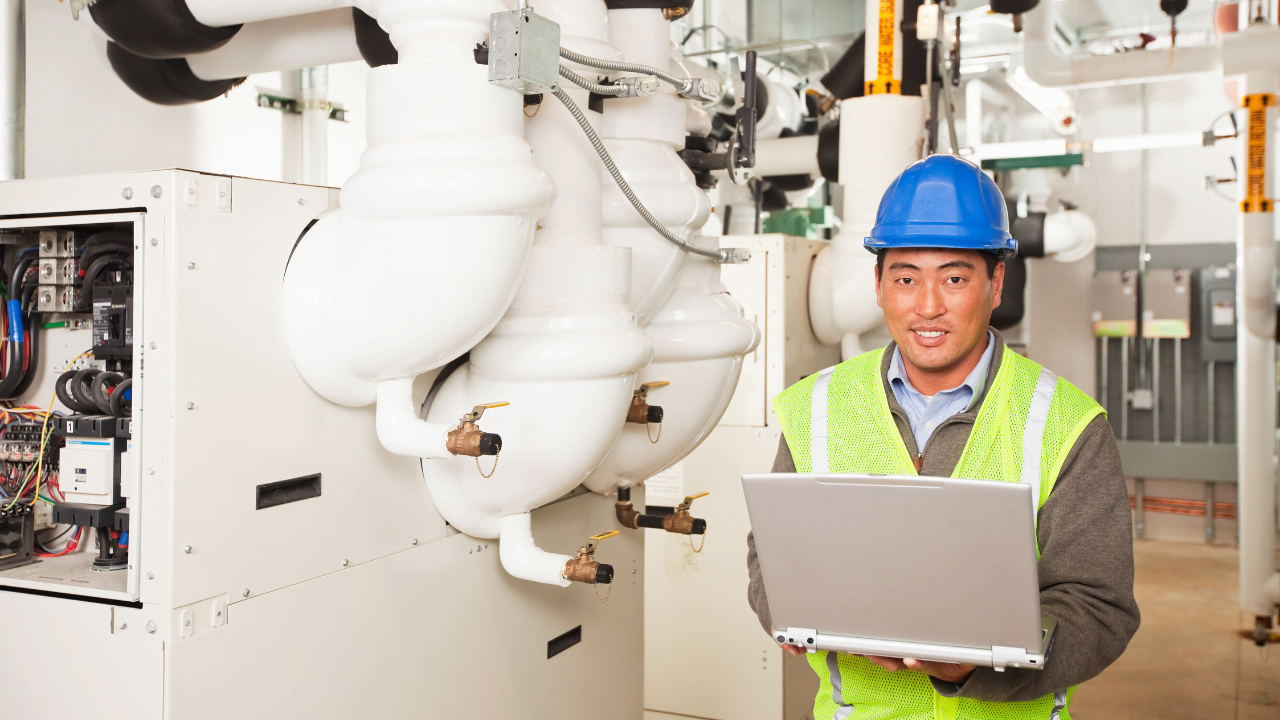 2. The Services Page
Your services page is where new customers will likely look before booking an appointment in order to determine you provide the services they require. So make sure that it is as clear and detailed as possible.
Heating and air conditioning pages are typically divided into separate sections on HVAC websites to make them easier to navigate.
If you provide both residential and commercial HVAC services, you may want to break them down further. Customers should be able to easily know about the installation process, maintenance or repair and understand exactly what they can expect from each service.
3. Testimonials page
It is essential for your HVAC business to be listed on Yelp, Facebook, Google, and other review websites. Listing on these websites helps new customers find you and testimonials from other customers will encourage them to choose you over your competitors.
With a testimonials page on your website, not only can you showcase what your past clients have to say about your work, but you can choose which testimonials your site's visitors see.
In order to raise the number of positive reviews on your company's website, offer discounts for customers who post a review or enter them in a contest.
4. Appointment-setting feature
An appointment-setting feature on your HVAC website is convenient for your customers — and for you and your staff. If you want to grow your home service business, you need to capture (and keep) as many clients as possible. Offering convenient ways to engage customers is an important factor in this process.
Mobile app use is on the rise, as more consumers use their smartphones to perform daily tasks. It's also about convenience and providing consumers with the ability to schedule home services, regardless of where they are or what they're doing.
Encouraging customers to schedule HVAC appointments online by making sure it's a fast and reliable process, one that confirms their appointment and gives them peace of mind that an HVAC specialist will appear at the appointed time and date.
Having an appointment scheduling feature makes it easy for customers to schedule appointments and for you to manage them.
5. Warranty policies and service guarantees
Something as simple as a warranty can spur customers to choose your competition over you, which is why it's crucial that they see it immediately on your HVAC website. Make sure to display warranties and service guarantees on both your HVAC website's homepage and all relevant services pages.
Include the manufacturer warranty for central air conditioning units, and the free maintenance during the first two years, on the page of service dedicated to central air conditioning installation.
In addition, a separate page describing your company's guarantee can improve your search engine optimization and ensure that potential customers won't miss this valuable information.
6. Page with contact information.
Along with an appointment-setting feature, you should have a contact page that allows customers to reach you with any questions.
Adding a contact form to your website and/or including business email addresses and phone numbers can accomplish this easily.
Include your HVAC company's physical address on the website as well if it has one. Besides wanting to communicate with potential customers, you also want this line of communication open so that local businesses and members of the community can let you know about any hvac marketing or advertising opportunities.
7. Information about Emergency Services.
The ability to offer emergency services on your HVAC website is a great way to attract new customers, since they might not want to wait for their usual HVAC company to be able to accommodate them.
When people are stuck with a broken air conditioning or heating system during the peak season, they'll pay just about anything for an HVAC specialist to expedite the appointment and get things running again.
The emergency services page of your HVAC website should include a contact phone number and the days and hours this service is available – typically 24/7 – as well as describe what kind of emergency services you offer, such as AC and heating repair.
Get Your New HVAC Website Design Today
Your HVAC website design should also feature links to all your social media pages and a news subscription section, so people can stay up to date.
You can keep people informed about HVAC maintenance via a blog, as well as other industry tips. A blog can also increase your contractors websites SEO, making it easier for search engines to find you. It also gives you something interesting to share on your social media pages.
Your HVAC website design should be easy to navigate, so visitors do not have to work hard to find the information they need to schedule an appointment. Keep you website running smoothly with our website maintenance services. Contact Newman Web Solutions Agency for a free strategy session today!