To be found online, your information has to be accurate and consistent. Your local SEO citations play a huge role in your success. Read this post to learn how local citation building is done and why it matters!
Citation building is the cornerstone of any great local search marketing strategy. Since we've done extensive citation building ourselves, we thought we'd share our secrets.
The Citation Building Process
Local search success and local SEO citation building are relatively easy to get because you simply have to state the obvious (your business's address, hours of operation, phone number, etc).
In doing so, how do you let search engines know that you have a local business?
It's true that you cater to your customers, not search engines, but people are searching for local businesses online now more than ever.
Here are ways local search can influence your business. Google has done extensive research on local search.
Consumers who conduct local searches on their smartphones visit or call a store within a day, and over 46% of all Google searches are local. A solid local SEO strategy is necessary to drive more traffic to your store no matter how many storefronts you have.
Users searched for local information both at home and on the go, though they mostly searched at home. Researchers found that 56 percent of "on-the-go" searches had local intent.
When a local search is performed (compared to that of searches made at a distance) the conversion rate is more than twice as high.
How does all this relate to building citations?
Basically, citations help you build authority. That matters a lot; in Google's local search document it states that it's one of the top factors to determine local ranking.
Authority refers to the level to which your business is known online, and Google determines your authority by taking a look at the amount of content it can locate about your business around the web.
Search engines use this info to list your business in local searches. – bold It includes links, articles, and anything else they find out about your business online, such as directories or citation information.
Furthermore, citations play an important role in the search engines' determination of your business' ranking in local searches and account for 13% of the factors they use.
How do citations play a role in local SEO?
In local search marketing, citations refer to mentions of your business on other websites. If you have your business listed on YellowPages.com, that counts as a citation. The same goes for an article on a blog about your business.
For local businesses, citations are very important, since they indicate that search engines trust your business.
Citation building is essential if your small business wants to appear in local searches, as search engines like Google and Bing use the information they find in citations to list your business in search results.
If you'd like your business to get the attention it deserves, then you should make sure search engines have all the information about your business they need so they can display it for consumer who conduct local searches.
For local SEO, this is where citation building becomes useful.
What is Citation Building?
Citation building is the act of spreading accurate, consistent and relevant information about your local business to listing directories in order for search engines and your customers to know where, when, and how to find your business.
Citation building is also similar to SEO link building.
When crawlers find links back to your company's website, they know it's trustworthy. Citations are the same. When search engines find your listing on important directories, they know to trust you.
Why do you need to build citations?
Consider citation building as a way of building your online reputation.
We've mentioned before that citations are important for SEO, because they tell search engines to trust your business.
However, consumers do use citations as well because they search local listings directories for local businesses. In order to be found by consumers, your business needs to be listed in those relevant directories.
These citations allow search engines to display accurate information about your business when consumers search for you. This information should be consistent across directories so that consumers can find the correct information about your business.
The importance of local search cannot be overstated:
Over half of consumers who performed a local search on a smartphone visited a store within 24 hours
54% of Americans have replaced phone books with local search
What are consumers finding about you when they search online?
The catch here is that your business's information in the citation will be used to determine what information is displayed about your business in searches, regardless of whether it is true or incorrect.
It is possible that conflicting information could still linger in old citations if you have moved or changed phone numbers in the past.
Even if your business has always had the same address and phone number, there are other factors (like a missing or misplaced apostrophe in your business's name) that can cause your citations to be incorrect.
Furthermore, citations are important because your business is probably already on various directories, even if you don't list it. There's a good chance that the information is inaccurate, which could cause consumers to lose trust in your business.
An unmanaged listing can cause your information to change many, many times over the course of a year, according to a recent study.
For example, if you own a local bookstore, consumers might search for "bookstore" + location. If the search engine returns two listings for your location, but each listing has a different set of open hours, the consumer may move on to the next competitor.
You should also know that inconsistencies with your citation information can reduce your local search ranking.
Before we talk about building citations, let us tell you about the different types of citations you can use online.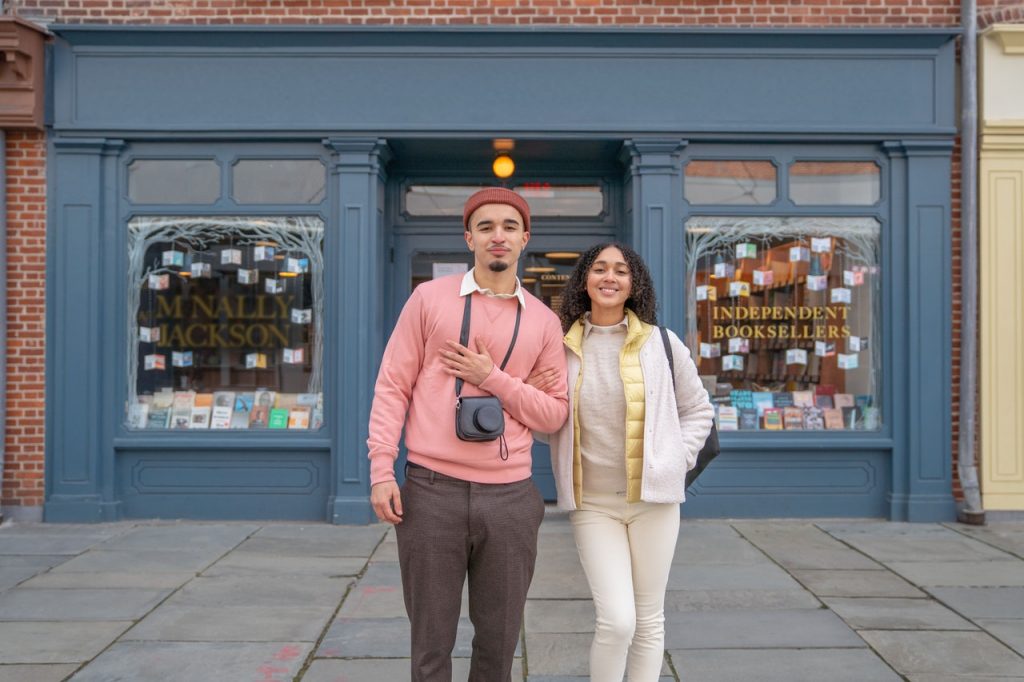 Types of Local SEO Citations
Let us start by talking about what information is typically included in a local citation for a small business. As mentioned previously, there are different ways for your business to be mentioned online, and there are multiple citation types.
Citations: Structured and Unstructured
Your business's name and telephone number is usually prominently displayed in most citations.
Most structured citations will contain your business's NAP (name, address, and phone number). This information is the least bit of information you will find about your business if it is listed on local directories.
In the process of claiming your business pages and sending out citation information, we provide a consistent, accurate NAP.
Consistency is the most important aspect of this information, as we will discuss it in greater detail later.
If not, you could encounter listings with inconsistent, inaccurate or incomplete information about your business.
The consumer will lose trust since he/she does not know what number to call or which address to use (or even when your business is open) if they want to visit your local business.
Anyway, here are some types of citations you should be aware of.
Structured citations and unstructured citations are the two major types of citations.
A structured citation can be found in a local business directory or on a website that you can usually edit yourself. For instance, when setting up a Yelp page, you'll need your business name, address, phone number, hours, etc.
Generally speaking, unstructured citations are mentions of your company's name.
Unstructured citations appear on websites that don't serve as listing directories. For example, if a blogger or online newspaper mentions your business, the article probably includes an unstructured citation.
Where can you find or create local SEO citations for your business?
A wide variety of types of citations exist as well as many different types of websites where those citations can be found.
You may want to check out the four major data aggregators as a starting point to get started by finding out which websites to submit your content to. These engines and directories feed their information to search engines like Google and Bing.
Note also that these aggregators aren't strictly citation sources, but they can help you get started sending out citation information.
Don't forget to claim (or create) your Google My Business, Yelp, Facebook, etc. page and optimize it.
Local Citation Building for local SEO
Getting started with citation building requires cleaning up your existing citations. To see how your business is listed, use our citation checker to see how your business listings stack up.
Search for your business's name and phone number in quotes, like this: "business name" "(xxx) xxx-xxxx". Once you find those citations, you'll need to claim all business pages and edit the information as needed.
Also, if you have multiple phone numbers or your business's phone number has ever changed, you can search for just the business's name (or those old phone numbers) and work your way through those results to find and clean up your listings.
With citations, you should also be careful with your address.
You can list a business's address in listings in many different ways. Think 4343 Shallowford Rd as opposed to 4343 Shallowford Road. Make sure your listings are accurate and consistent across listings.
The search engines and directories are pretty smart, and they may be able to tell the difference between a "rd," "rd." and a "road". Despite this, it's best to use the same NAP across listings—just to be safe.
Optimize Citation Listings
We already discussed securing Yelp or Google My Business listings, but you will also want to optimize your listings. It's not enough to simply be found.
A description and a few photos of your business can give potential customers a good understanding of what your business does.
In addition, remember that many of these sites allow users to review your business, so you should stay on top of those reviews too. Respond to negative reviews and make the reviewer happy.
Keep in mind that you must be present on the web, and ensuring your customers are happy is the key to success, regardless of how well your business is promoted. Negative reviews should be responded to, even if you think you have handled them correctly. And make sure you consistently get new reviews.
Additionally, our Digital Marketing Strategists update Google My Business regularly so that search engines know your business is active, not just listed.
What about building new citations?
It's time to start building new citations now that you've created business pages and rectified any inaccurate listings you found.
The list of citation aggregators mentioned earlier can always be used to start building citations for you. From there, you can look for directory listings dedicated to a particular industry, or find directories dedicated to a particular location, or even search for competitor listings.
Before you list your Business in every listing out there, remember that some will be more valuable than others.
Furthermore, while you want your customers to be able to find you in every directory they search in, you probably don't have time to create citations for every directory out there.
You should always aim for quality over quantity with your citations. Make sure your business is listed on the important sites we mentioned, rather than trying to get too many citations.
Make sure you are on the sites that your customers use to find you.
Guide for Citation Building
Make sure your business is listed with the correct address. Check with the USPS to confirm.
It's best to save this information in a spreadsheet or Word document so errors are minimized and citation building becomes a lot easier. Once you need to update your listings, you'll just copy/paste the information into the directory.
Search for your business on Google to find out what existing citations are out there.
Prior to creating new citations, clean up existing citations.
Start building new citations, but be selective! Don't just submit your citations to random sites. Choose reputable sites and data aggregators.
Check for and respond to reviews, keep listings updated, and add photos whenever possible. Make sure your business's listings are optimized.
Stay on top of your citations. If you just build citations once, one new NAP mistake somewhere could mean incorrect information on your listings. And you don't want consumers to find incorrect information about your business.
Citation building is only a small piece of the puzzle of local search marketing, but it's very important. If you want your business to be found on the internet, check your citations and make sure it's listed on the right directories.
Or, just give us a call and we can do all the legwork for you because local search marketing is our specialty. Who has time to clean up citations anyway?